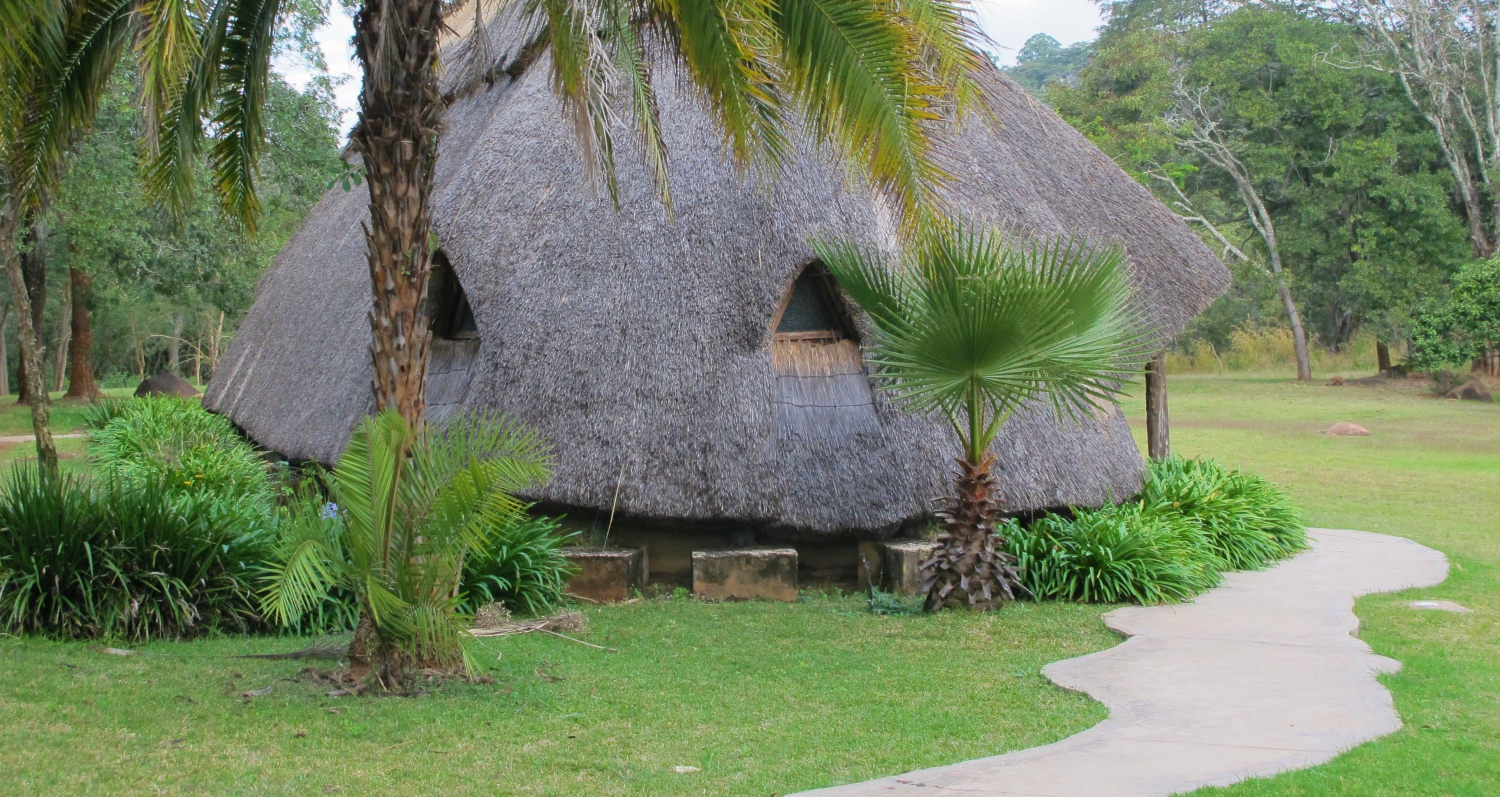 An Afternoon at Bushman Rock
Zimbabwe
Bushman's Rock Safaris is a well established Leisure resort that lies 40kilometres out of Harare; it is located a few kilometres from the Mutare highway. We had the pleasure of visiting it recently for a Day trip, giving us a chance to experience their warm hospitality and enjoy the great beauty of that reputable estate.
Bushman's Rock
offers accommodation, conference and functions facilities plus a number of leisure activities for its guests.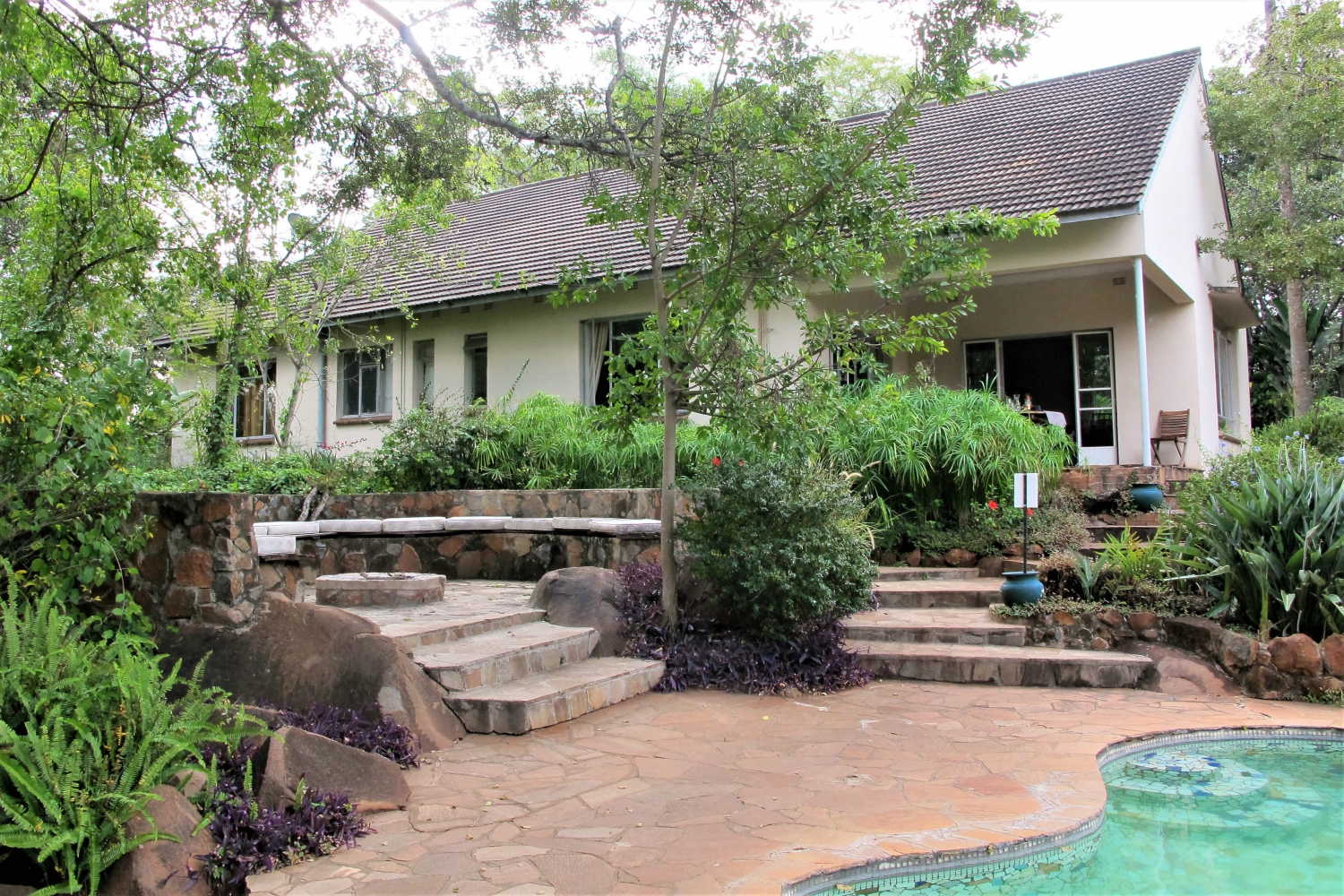 We set out around mid morning and the uneventful drive from our Chisipite base took us around forty minutes. The place is easily accessible and is just perfect for foreign guests who want some lodging, quick access into the city plus some peace and quiet. If you are anything like me and find hotels busy and stuffy Bushman's Rock is exactly what you need.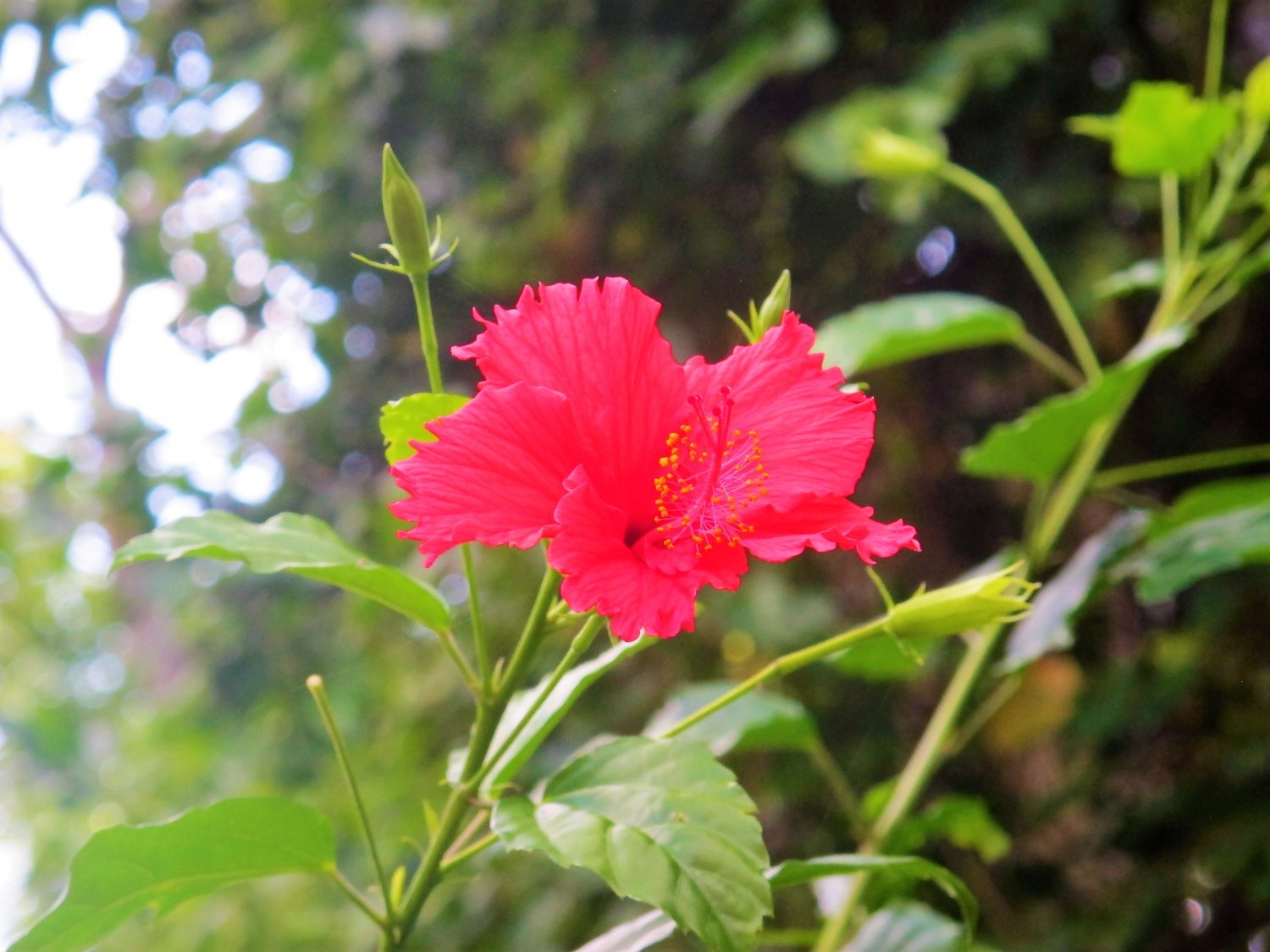 We were greeted by a bubbly host and given some welcome drinks; we enjoyed these while we waited for our guide for the day. He came through and we went for a game drive round the park. The estate sits on 10 000 hectares of prime woodland which is interspaced by rocky outcrops and some grassy plains. This area is home to a number of wildlife species. They also offer other activities such as, game walks, pontoon rides, canoeing, horse riding and birding. Our guide was well informed about the vegetation profile and would point out some common indigenous tree such as Muzhanje and Munhondo along the way. Some of the animals we encountered included Zebras, Eland, Guinea Fowls, Ostrich, Buffalo, Wildebeest, Impala and Sable.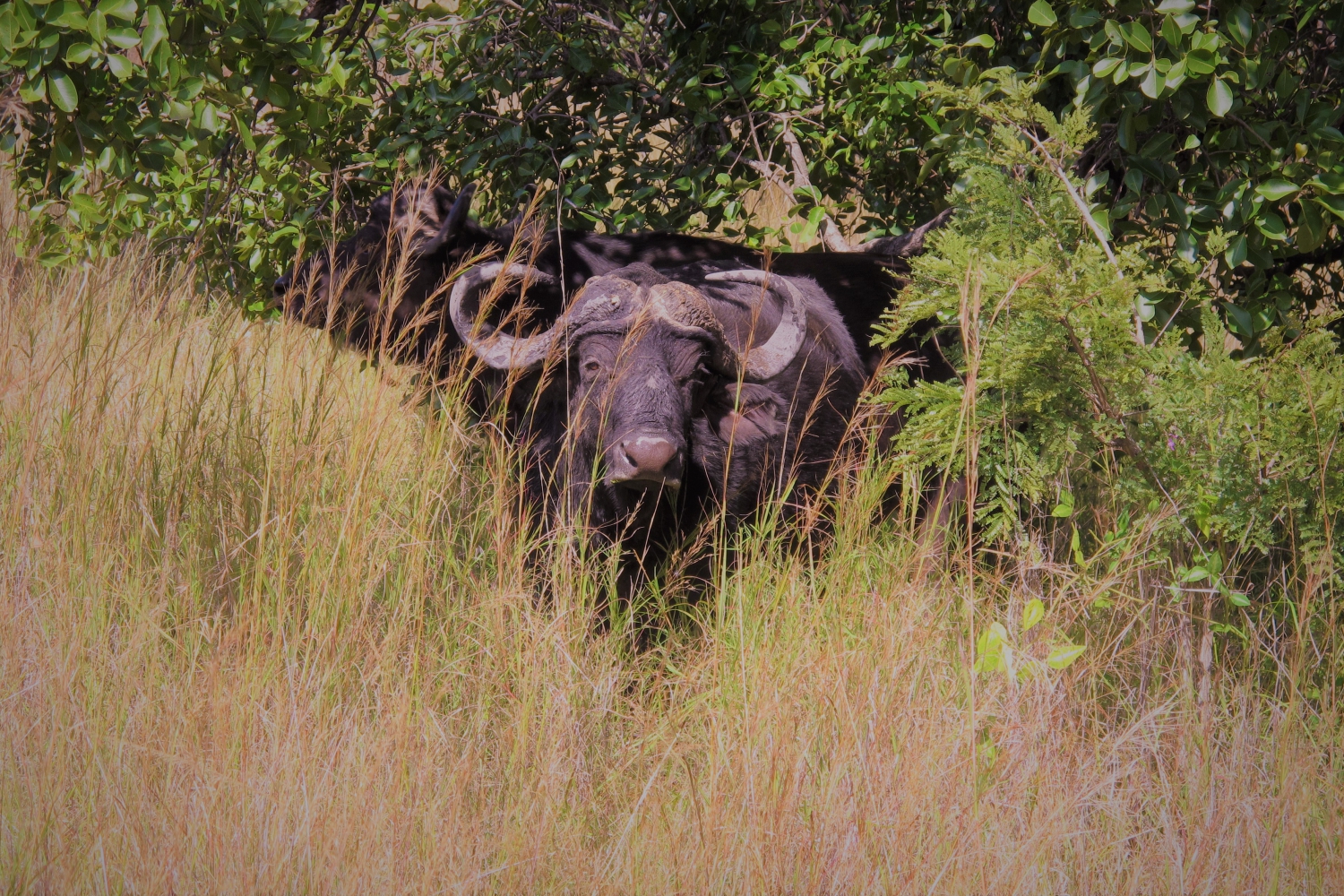 The guide made every effort to secure a good vantage point to see the animals closely and take photographs, enabling a truly authentic nature interaction. The animals are not tame; they run free and only receive supplementary feed to augment their diets. There is a small dam on the property which is home to some fish; here guests can enjoy some fishing. On our way we also had a brief tour of the winery and the pavilion. Bushman's Rock has several acres dedicated to growing its own vines and these are used to make wines and juices for the local and international market.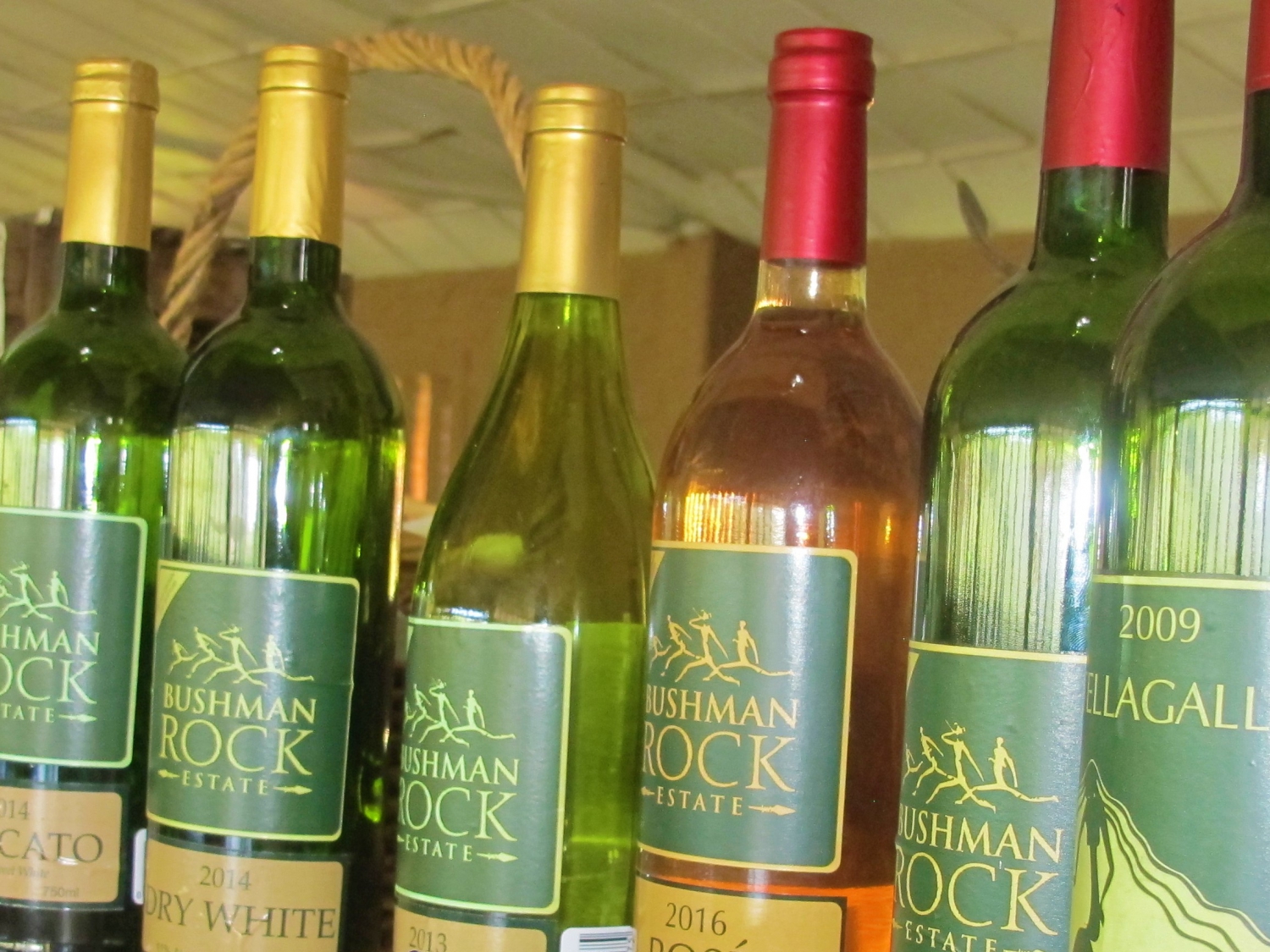 From the pavilion there is a superb view of nearby hills, woodlands and of course the well trimmed polo fields beneath. The environment is absolutely peaceful and guests can also enjoy some wine tasting when they tour the winery. A great combo of good wine and beautiful surroundings is great therapy indeed! With our tour complete we returned to the Lodge area for lunch.
There is a guest dining room and a lovely garden area as well where guests can enjoy their meal to the sound of birds and also soak in some sun.
Lunch was a 3 –course delight with well executed tomato and Pepper soup to start, Mains was a choice of roast beef or chicken, Potatoes and a side of Veggies. All the dishes were excellent, generous portions, lovely flavours and beautifully presented all top notch!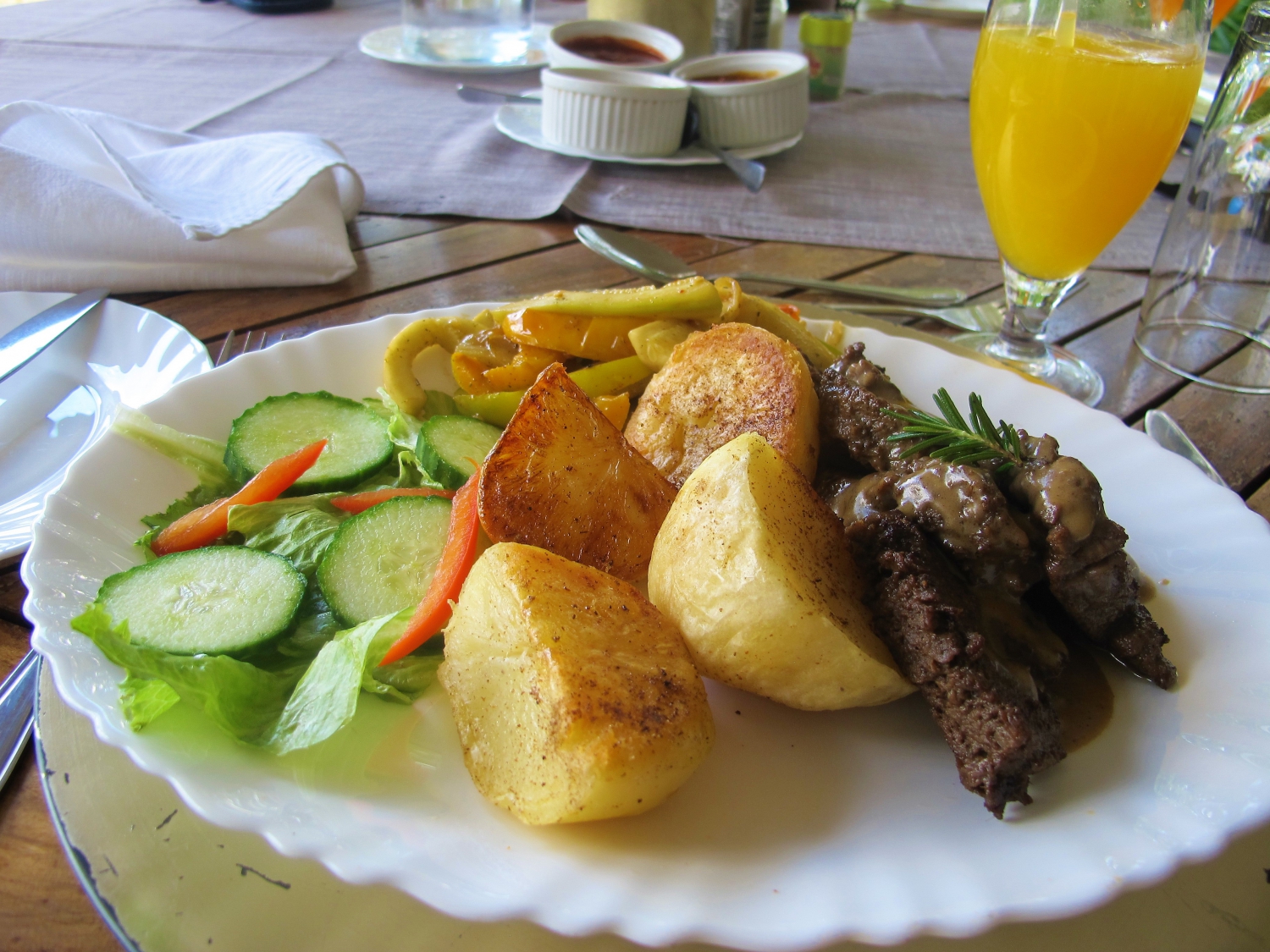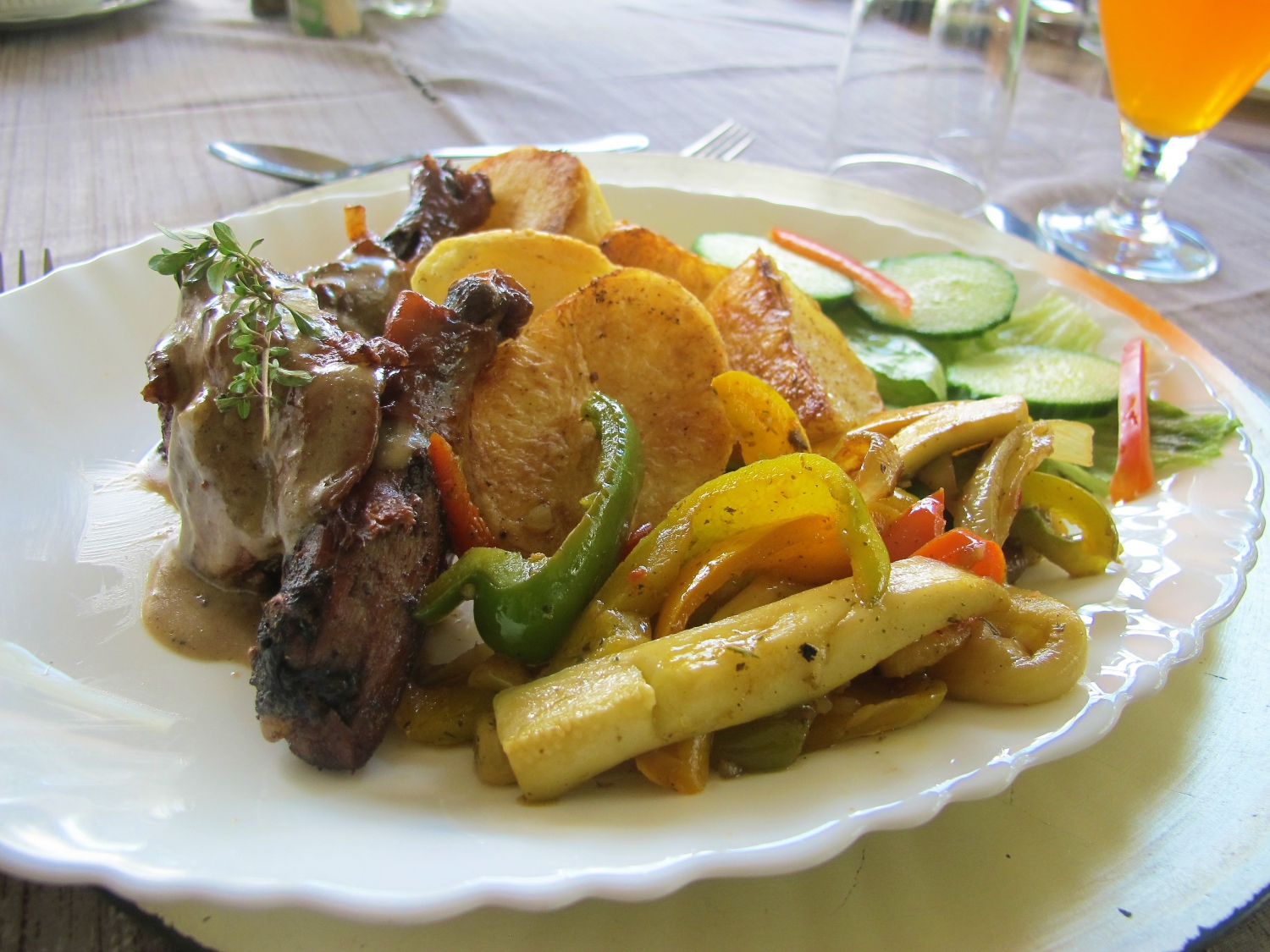 After lunch we had a chance to take a stroll in the gardens to admire the various blooms around the lodges. We also managed to take a peak in the various lodges to see the layout and facilities on offer. There are 6 lodges in all comprising double rooms, family suites and twin rooms. The lodges are spacious thatched units which come complete with coffee and tea making facilities, fireplace, ensuite bathrooms and shower, private patio and a fire place.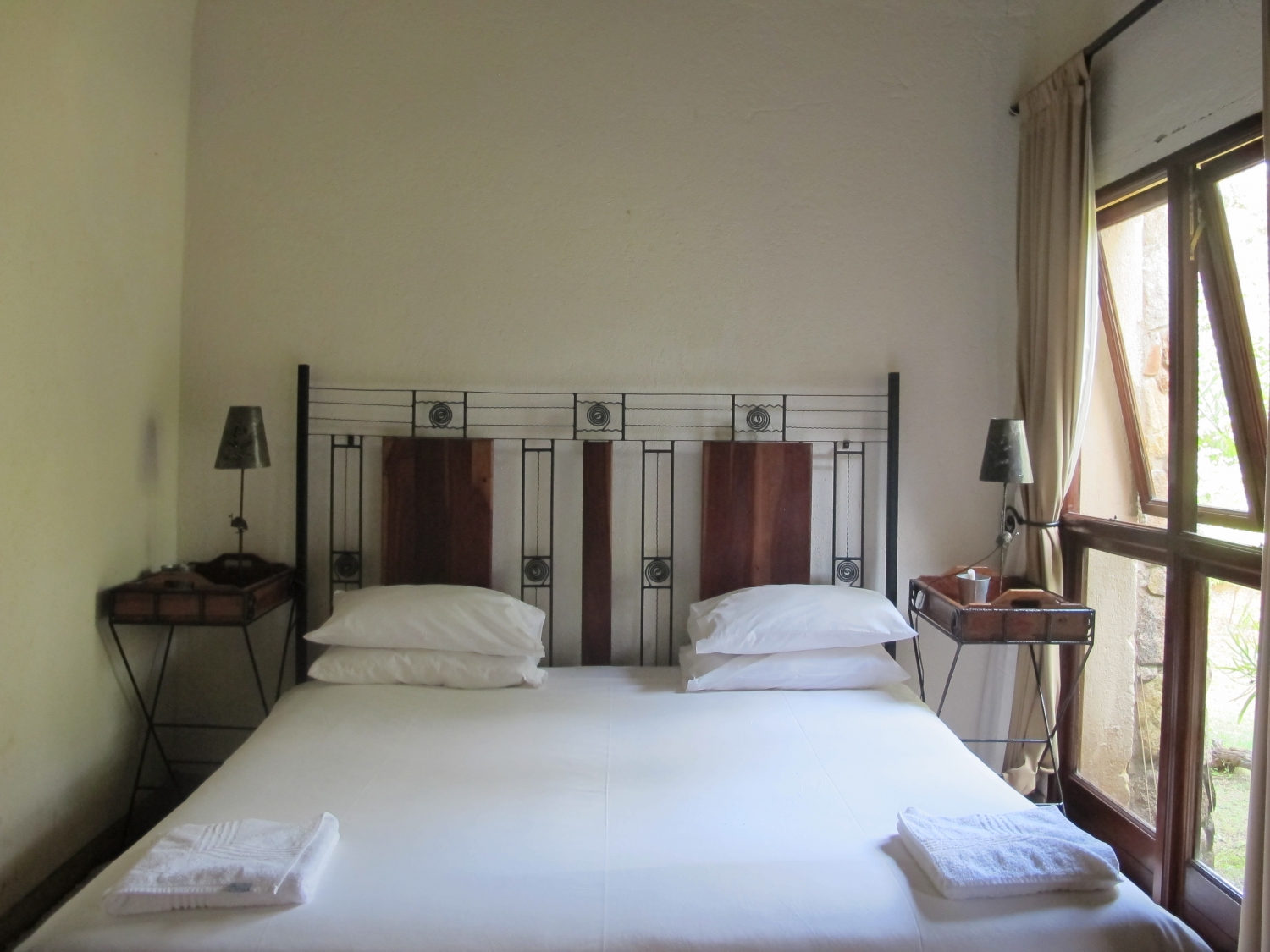 After our full meal and the pleasant afternoon it was a real downer that we could not sleep over and sample this apparent luxury. The environment simply grows on you; the serenity, the beauty, the impressive facilities and friendly service.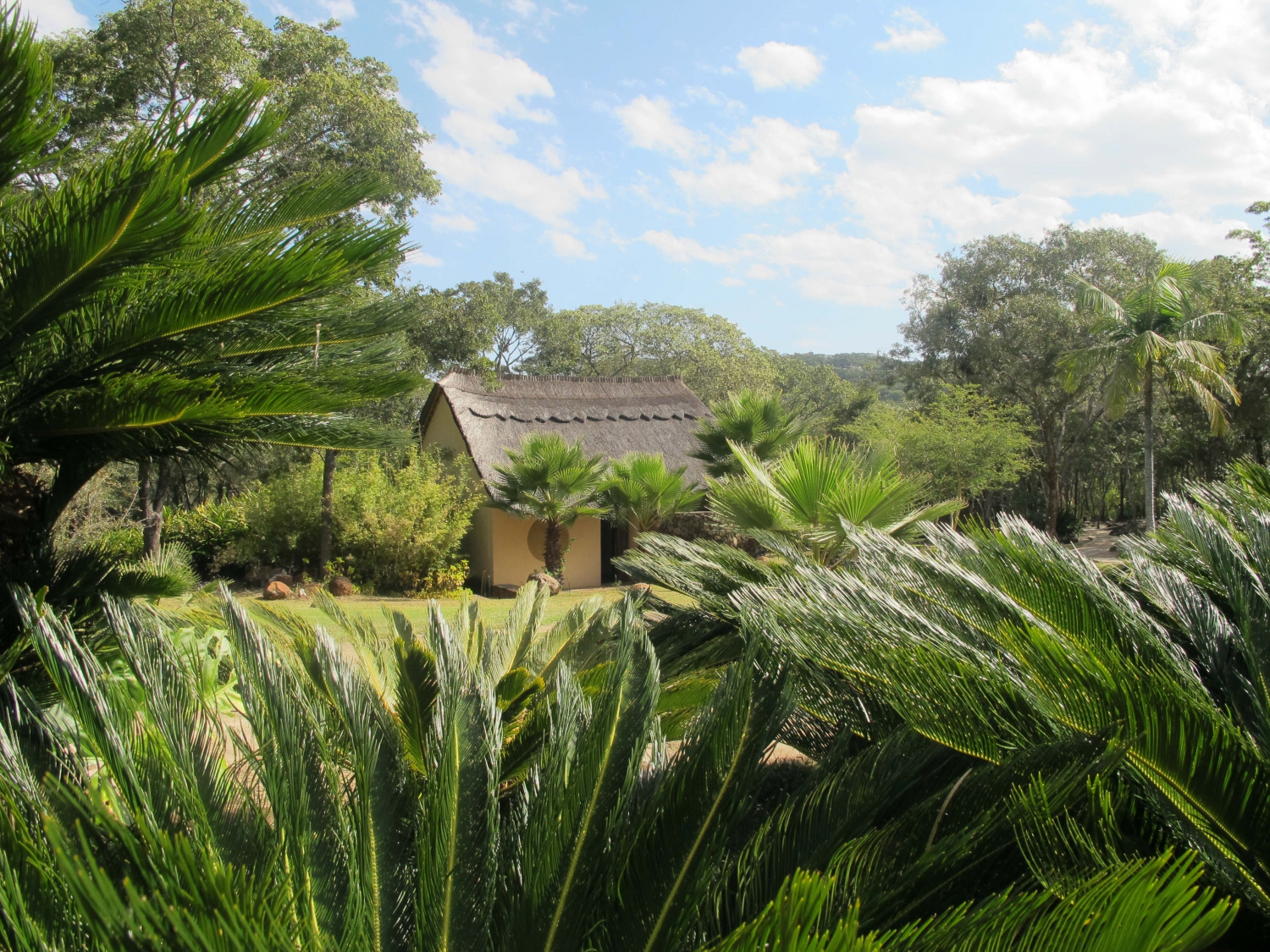 It is the perfect place for a family retreat, romantic weekend or activity weekend with friends / peers. Bushman's Rock unanimously got high marks from all of us and we recommend it to all.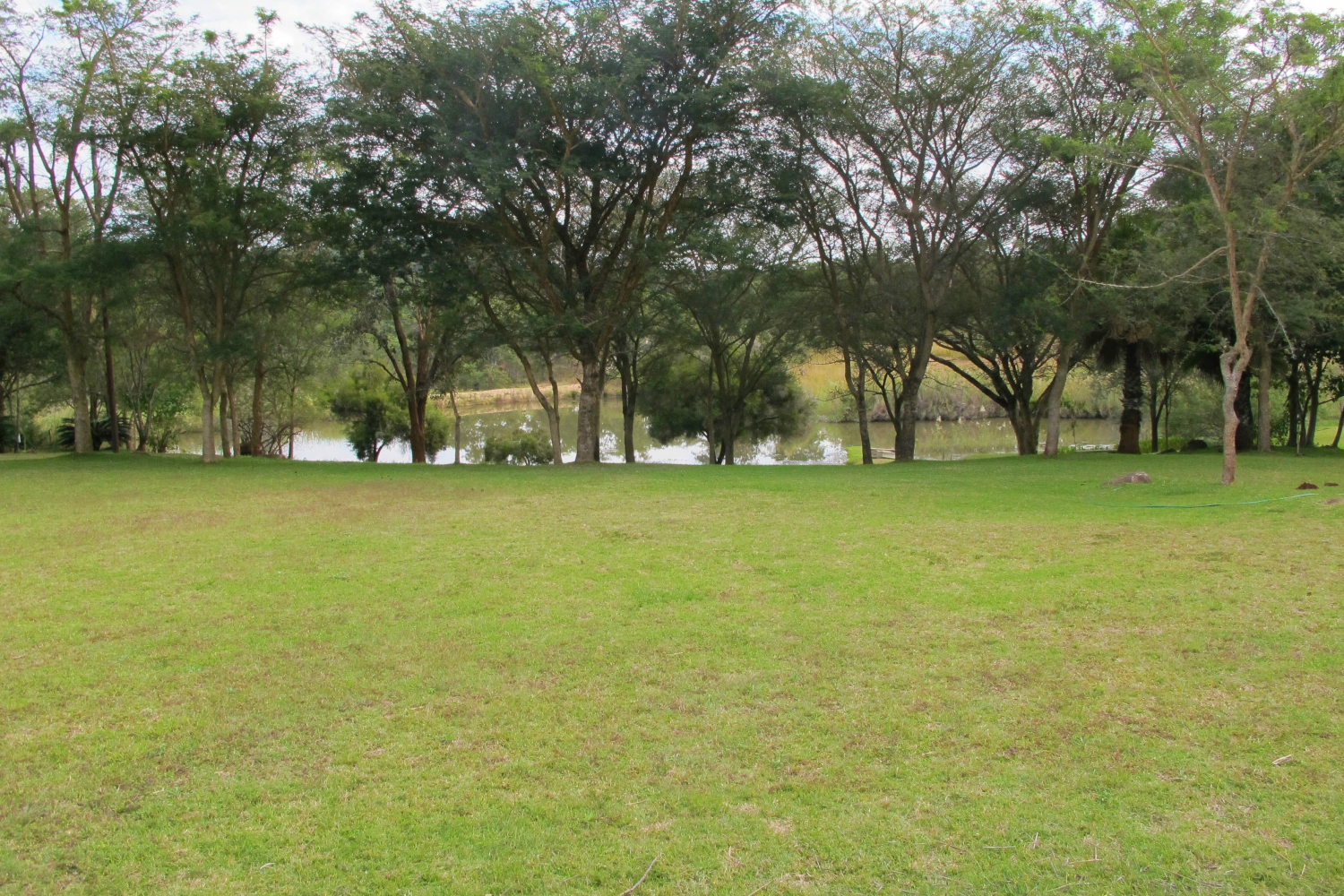 Written by:
Vanessa Gambanga
PUBLISHED: May 18th 2018