Getting Around In Zimbabwe
Zimbabwe
If you are visiting Zimbabwe for the first time you will notice that it does not have any urban train service and if you are not hiring a car to drive around you during your stay you will need to make a plan for getting around. Zimbabwe has several reputable car hire companies but there are many reasons and advantages for using alternative transfer methods. This is a guide for how to get around within urban centers. A list of some do's and Don'ts and a few recommendations of reputable service providers.
GTAXI
Gtaxi is a quick user-friendly app which enables clients to request a vehicle for immediate pickup or pre-order for a specific time. As a safety precaution, the driver's picture is uploaded onto the mobile interface application so you know exactly who is picking you up! The booking confirmation is instant and the app also facilitates online payment. Our services are competitively priced and in order to ease the burden of cash blues several payment platforms are available, including; Bank Transfers, Cash, Ecocash, Swipe i.e. Visa Card, Master Card and Zimswitch.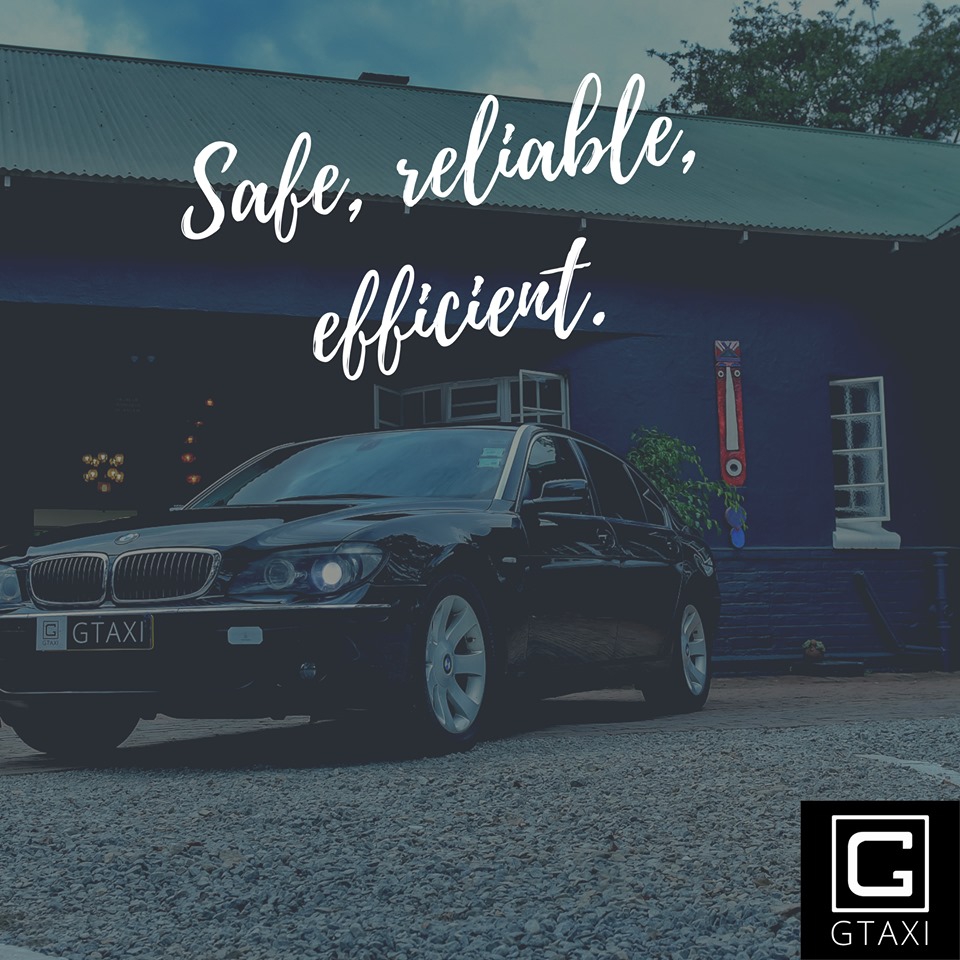 Gtaxi service is open to people from all walks of life and it runs a fleet of well-maintained vehicles to meet various needs. From the Leisure traveller, executive clients, family drop-offs and so on; to meet all needs. Even a special client needs such as children (infants) friendly vehicles are available for clients.
VAYA
VAYA
is an on-demand app-based cab service which was launched in 2018. It is a service which has consistently been pegging fair rates in comparison to smaller cab companies. Vaya now operates several services which include;
Vaya Lift Driver
– A service whereby a client hails a cab for immediate pick-up or for a scheduled time in the future. The service connects the client with the nearest available driver.
Vaya Shuttle service
– This is shuttle bus option for 5 or more passengers with a personalised "door to door service" to pick up and drop off passengers.
Vaya Club
– A car-sharing service whereby clients can share a car and split the cost, making the payment on an individual basis through a payment portal linked to the mobile Application.

HWINDI
Hwindi is a taxi-hailing service which was launched in 2017. It allows clients to hail/ request for a taxi anywhere anytime through a mobile application. Clients can select the car of their choice as they offer cabs, executive cars, and vans. Hwindi is very safe as it allows clients to track their ride in real-time through the application and also the driver's picture, name and number are also provided when the booking is finalized. It is a 24hr service and if clients are having network challenges when using the application, they can book via the Hwindi Call Centre which operates 24 hrs. The final trip charge will be meter charged and a detailed invoice will be sent to the client's email which is provided when they register. Hwindi also offers other services like deliveries, chauffeur services through Designated Driver services. They operate mainly in Harare and on a small scale in Bulawayo.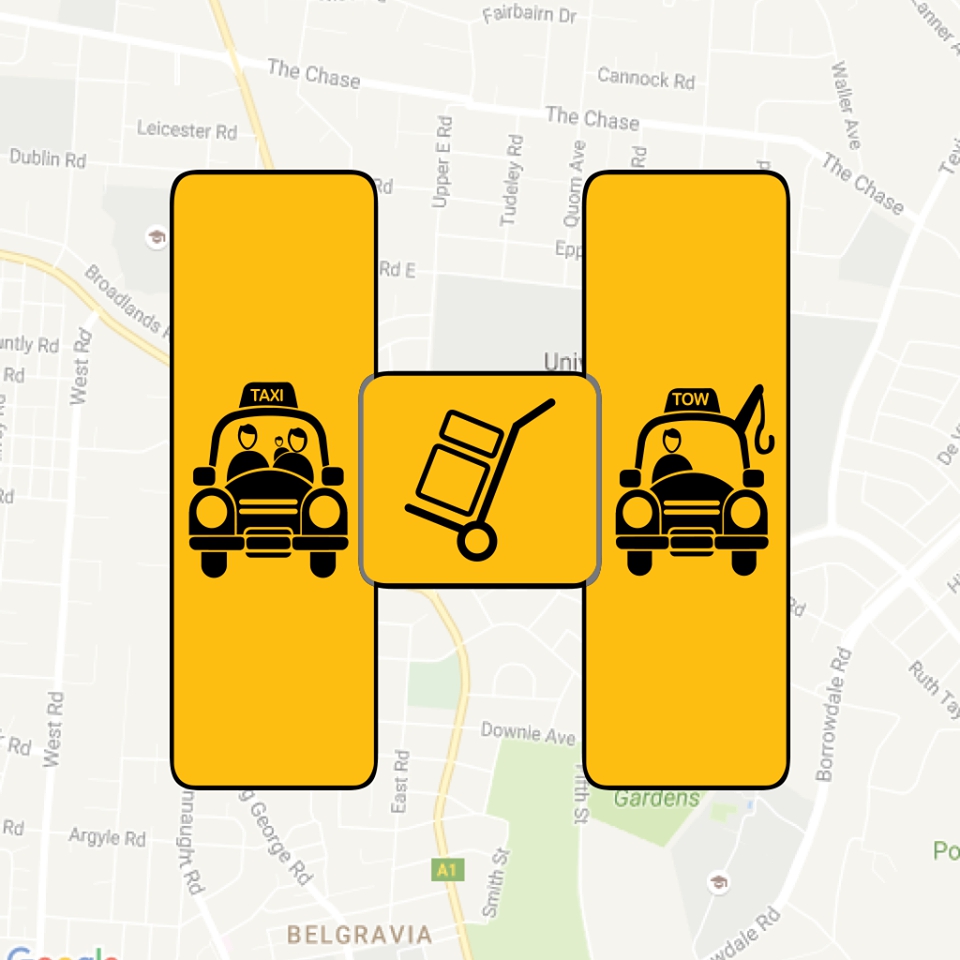 Download Hwindi from app stores.
Download for
Iphone
Download for
Android
or visit our website www.hwindi.com
TODA
Toda Is also an App-based taxi service which was launched in early 2018. Although Toda is an app-based system and operates from within the application for bookings, they also engage customers on different platforms including WhatsApp, webchat, and phone-ins. Toda works in Partnership with thousands of drivers who have downloaded the application countrywide, but they are currently operational in and around Harare with a plan to extend to other urban centres soon.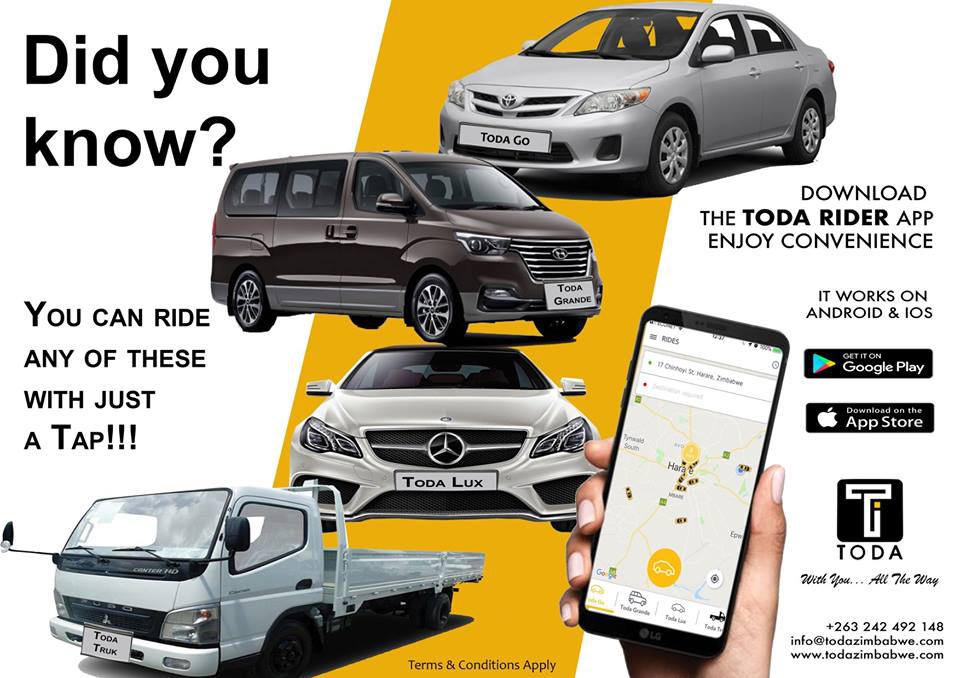 Toda services include:
•
Toda Go
, that is the smaller, economical cars for everyday travel, sitting up to 4 passengers. Vehicles in this range include Toyota Corolla, Toyota Allex, Honda Fit and many others.
•
Toda Lux
which is a service designed for those who prefer extra comfort, luxury and style when travelling.
•
Toda Grande
, a travel option strategically set for clients who wish to travel in groups or with lots of luggage on board. The Grande can sit 7 or more passengers.
•
Toda Truk
, is a service ideal for goods deliveries, moving and relocating. We have different types of trucks suitable for your needs.
Toda services are available 24/7, there is a 24/7 hotline to assist riders whenever they need a ride. We are also in the process of building a 24hour contact centre. Toda automatically bills clients through Ecocash (Mobile money platform) and users can also make cash payments. Toda is easy and flexible too also allowing clients to prepay into their Toda Account for easy management of their Toda transport budget.
There are many other small scale taxis which are available in the urban centres; however, for security reasons, visitors should avoid unbranded vehicles, particularly at night. If you are visiting and staying at a city hotel it is advisable to ask the staff for recommendations of reliable cabs if you need to get around. A few hotels have shuttle buses which are available for local transfers, particularly in resort towns like Vic Falls. Some smaller lodges have an in-house driver who can assist. The local omnibuses (Emergency Taxis) used by locals are usually very cheap but their travel schedules are erratic.