Exploring Harare Shopping Centres
Zimbabwe
Longcheng Plaza
Longcheng Plaza is Harare's youngest shopping centre, located to the west of the city a mere 10-minute drive out of the city centre. It is spacious location with plentiful parking for shoppers. It has a modern and clean feel to it but also displays an oriental influence in the architecture and aesthetics.
Longcheng is unique in that shoppers will not find the more popular retail outlets which are scattered around the city but it is home to Ivato group of outlets.  A retail and wholesale centre specialising in all home solutions. Including Electrical, Furniture, consumer goods, Garden and Camping. The stores offer a variety of imported brands including exclusive Chinese products. The plaza also has several boutiques and fashion stores such as So Chic by Moe, Raffies and Lavish Boutique.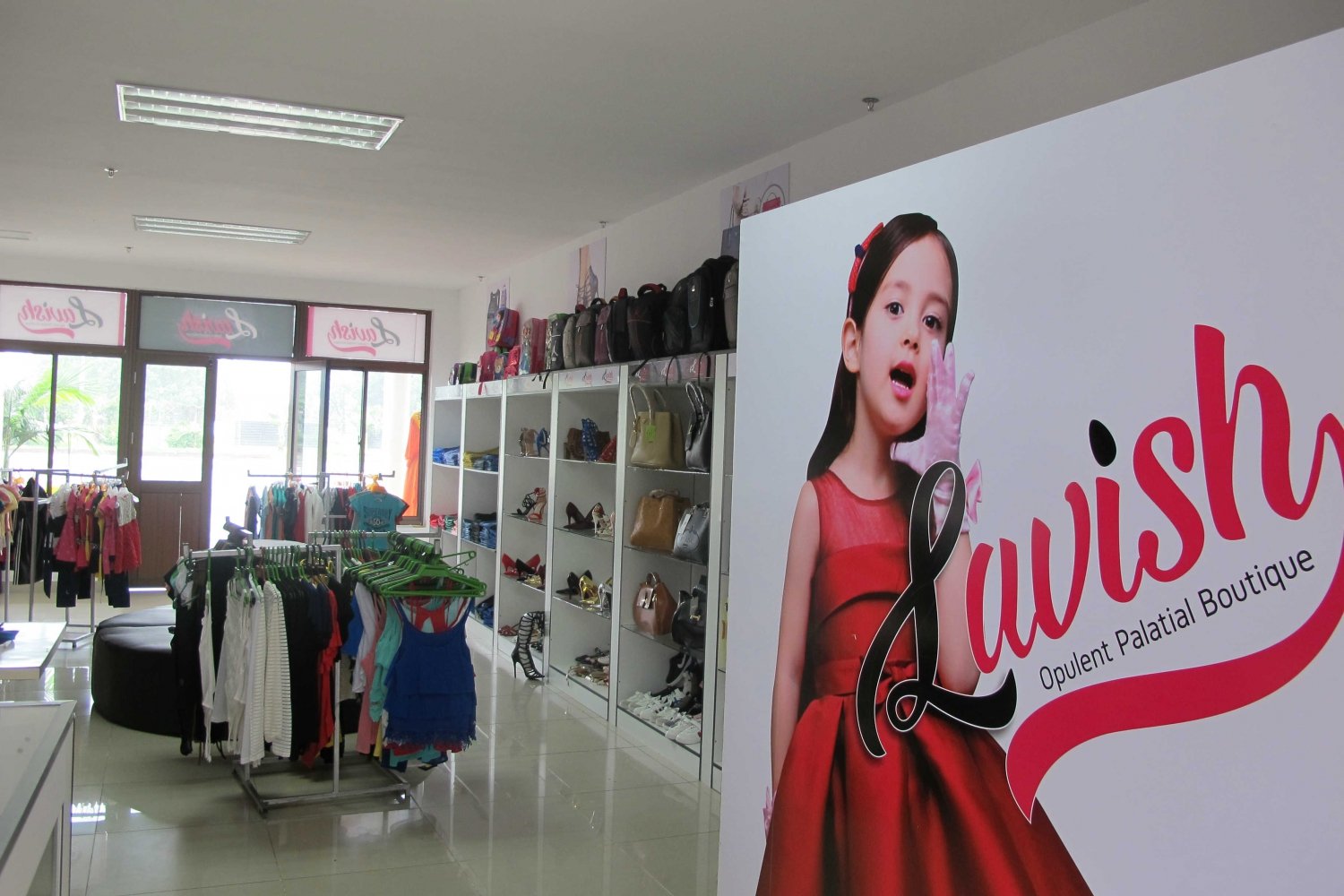 There are a few banks, Telecomm operators, Gift shops, Electronics shops such as Huawei, Cellcom. In addition, there is a Gymnasium and a few night spots such as Radost, a Night club. There is also a Medical Clinic and pharmacy.  
The main attraction at the centre is the outdoor Amusement Park, the perfect place to spend an afternoon with the whole family. There are several rides and activities that will be appreciated by children such as, the trampoline, Merry Go round, The Flying Dragon, swings and Jumping castles. The park also offers exciting activities for teenagers and adults such as rock climbing and the all famous Pirate ship. The younger members of the family may also enjoy playing games at Magic Thrill 5D, a video arcade.
The eateries available include Chicken Slice and Pizza Slice and the Longcheng café. The latter offers a more formal set up, a mix of English and Chinese menu as well as superb green teas which come highly recommended.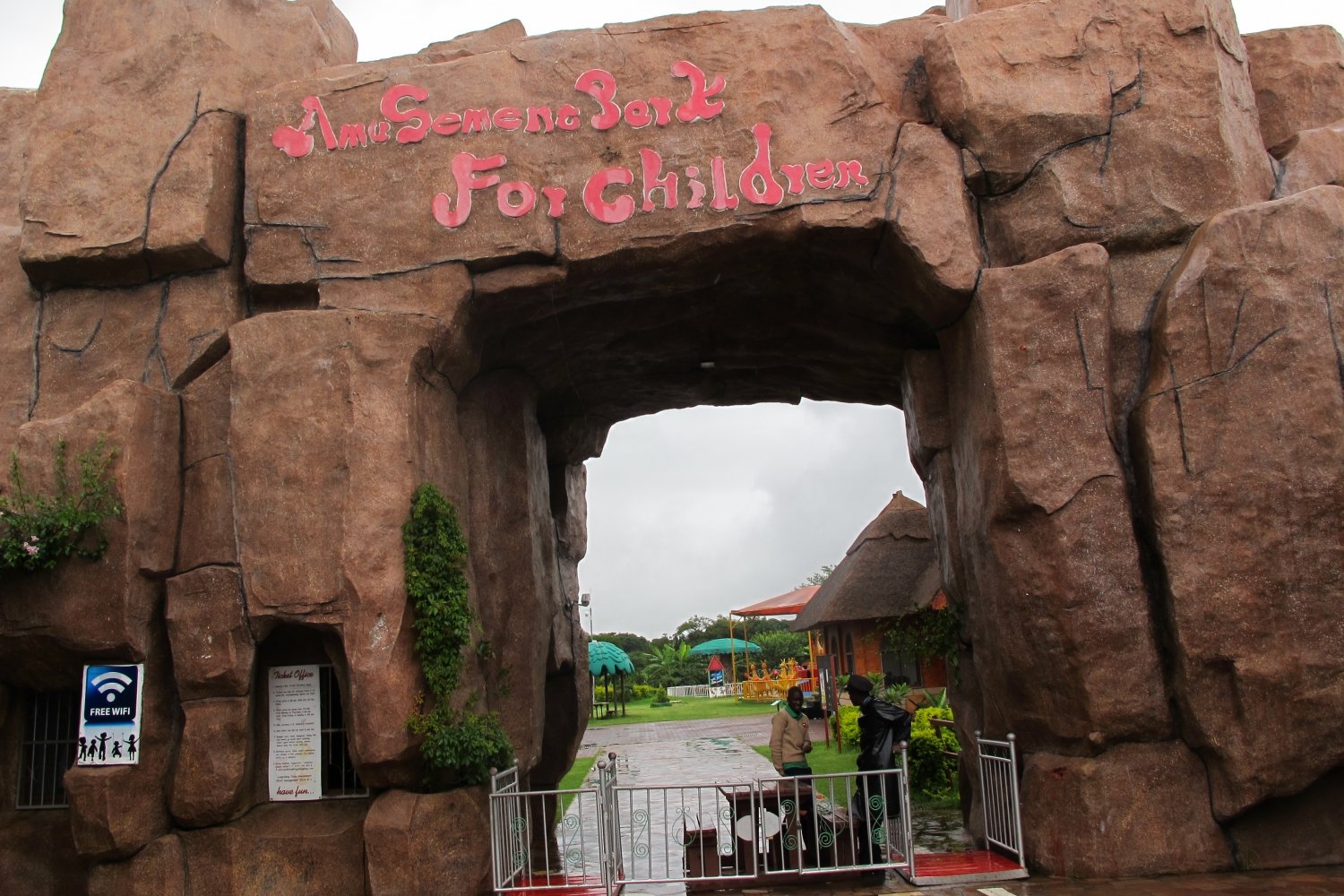 Eastgate Shopping Mall
Harare's Eastgate shopping mall is a very popular landmark which features prominently on the city skyline. Established in 1996, this mall boasts of impressive architecture. A unique design which uses natural cooling, a modern eco-friendly feature which is now common all over the world. 
Eastgate is conveniently located in the city and has safe and secure parking. It is made up of a combination of office space and various shops and outlets. It is a multi-storey complex which is always a hive of activity on most days including week days. Shoppers will find it suitable for luxury shopping and some selected business services, there is no supermarket within the mall itself but major supermarkets can be found within a kilometre radius.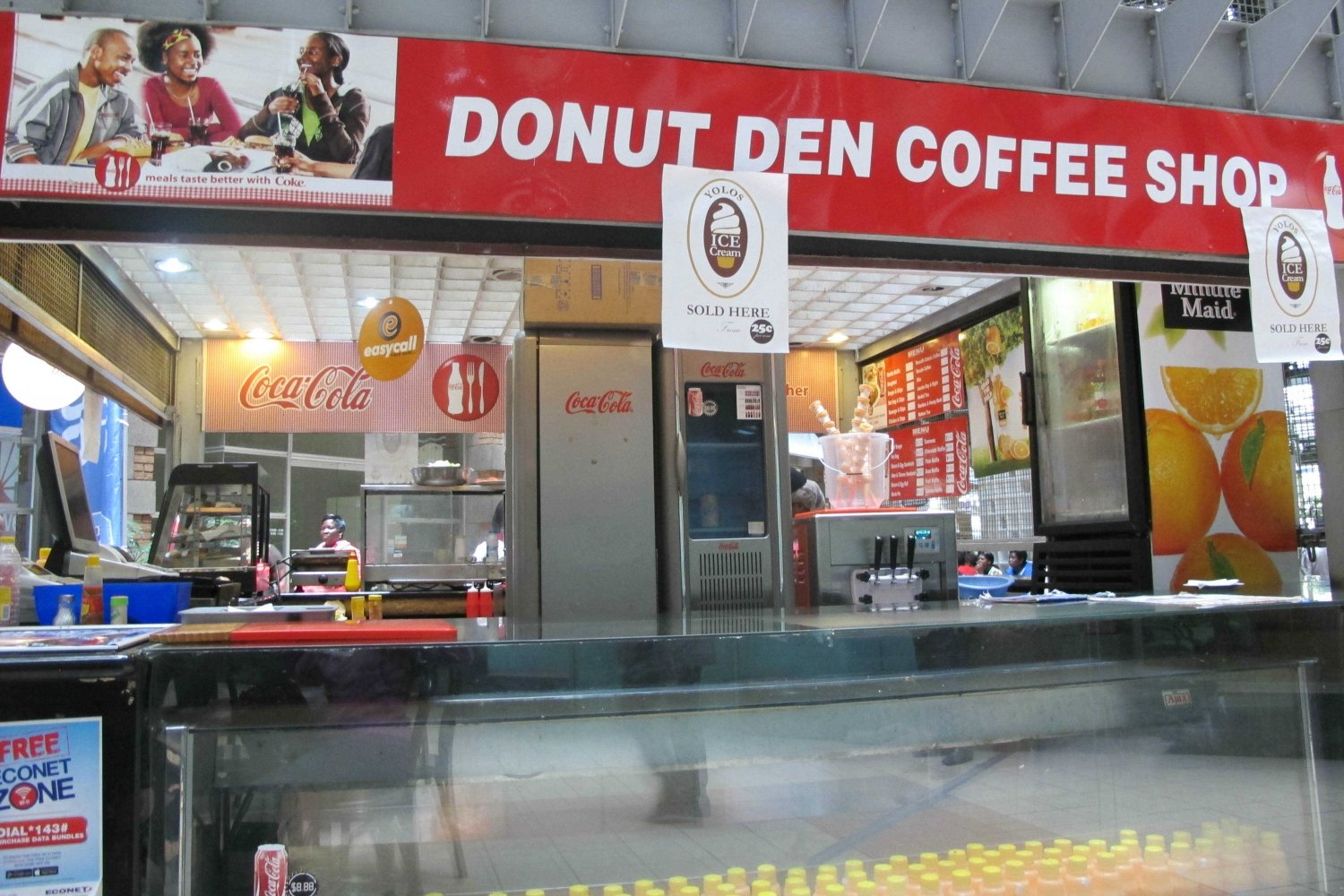 There are assorted upmarket boutiques such as Trends, Blue, The Accessory Place and Zuv for Men. Shoppers may also enjoy the presence of hallmark brands such as Edgars, Bata and Truworths. Specialist services include sports shops, a Hair Accessory supplier, Viache for home decor as well as a jeweller on the ground floor. Business services include, two banks, major telecommunications providers Econet and Netone, and Innovative technologies for business services.
The mall itself does not have entertainment spots but a stroll across the street brings one to the Fantasy Land Complex where there is a cinema and some fast food outlets, which are quite popular and always associated with Eastgate itself. Dining and refreshment options come in the form of Piefect, The Place restaurant , Donut Den among others. Whether one is looking for substantial meal or some coffee or ice cream there are a couple of options to choose from.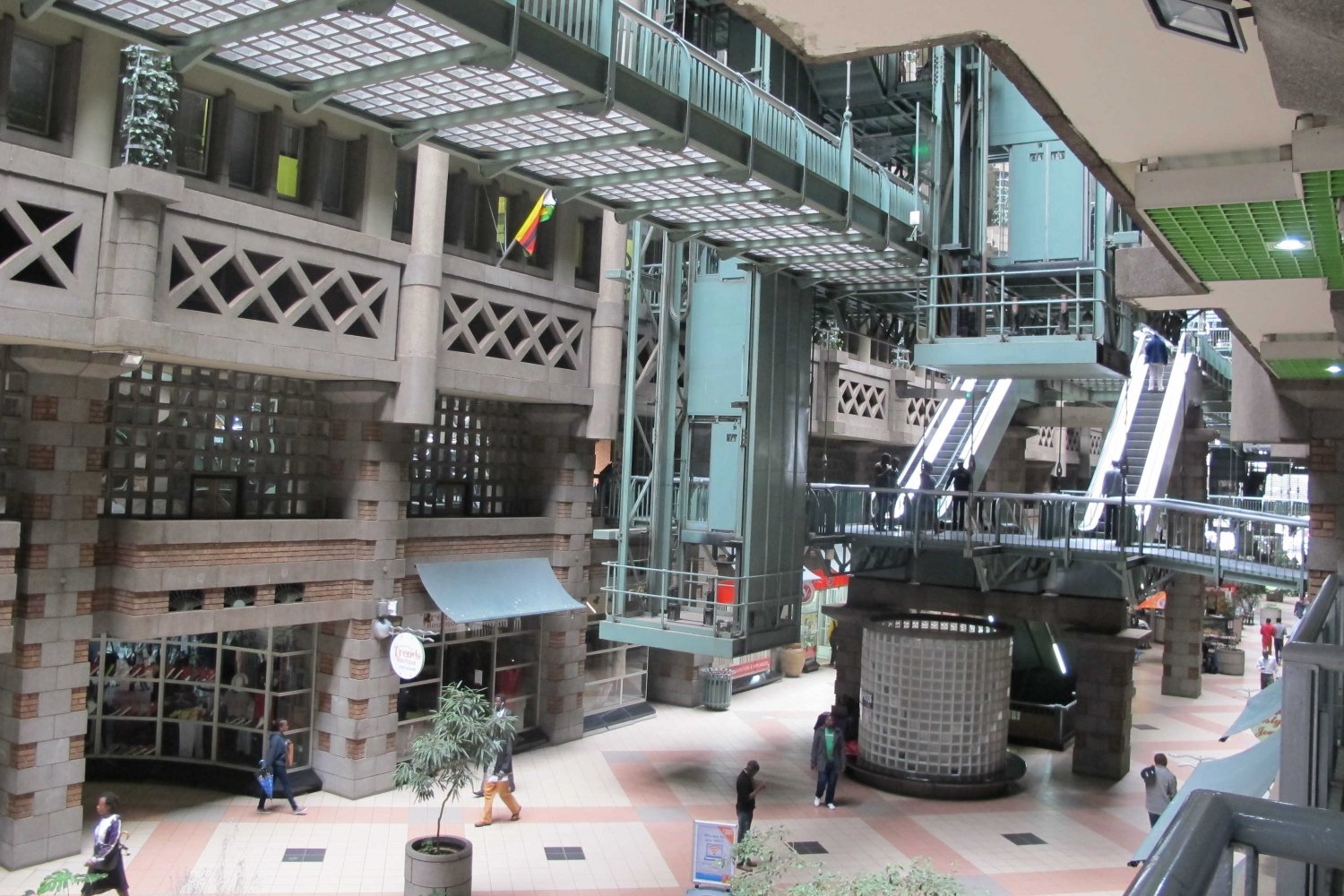 Joina City
Joina city is positioned in the heart of the city of Harare. This shopping complex is a multi-level building housing a diversity of shops and outlets for various services and needs. It draws a lot of traffic during the weekends and over public holidays when it is abuzz with the younger crowd. It does have an office wing which is generally quieter.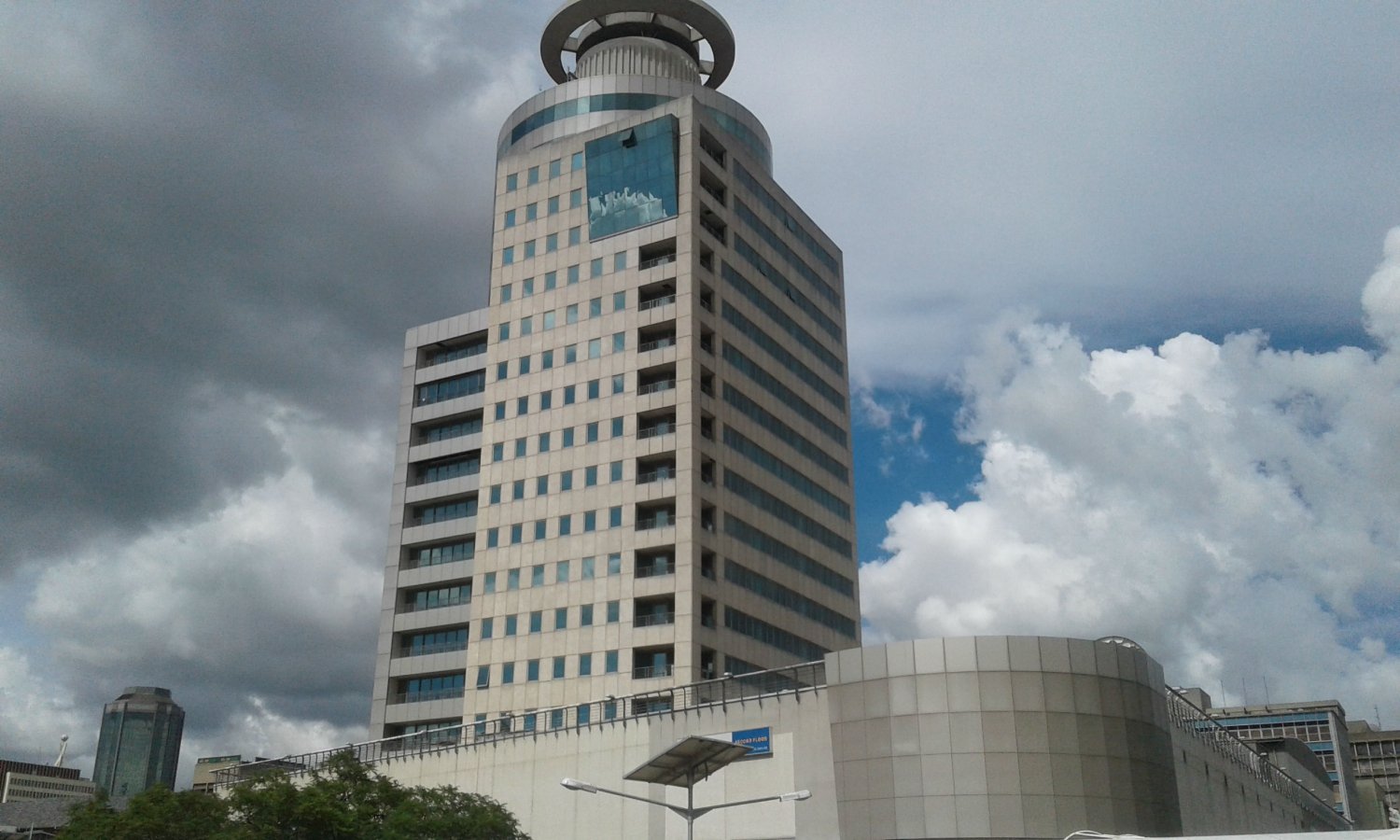 The Joina city skywalk which spans over the ever busy Julius Nyerere road gives direct access to pedestrians. It is a great vantage point to see the beauty of the building as well as a glimpse of the town house opposite. There is abundant parking space for shoppers as well, which emerges from the southwest.
There are no entertainment facilities at Joina City but there are a few food outlets where shoppers can stop for a quick bite of lunch, or some coffee and cake at Cafe 263, these can be found upstairs and may be crowded on some days and during peak times. However, KFC which is located outside the main building has less traffic and is perfect for family outings.
 For shopping options Joina offers Pick n pay supermarket which stocks a variety of brands. There are also some clothing shops for adults and children. Specialist shops such as Xtep for sportswear and Bata for foot wear. Joina offers the convenience of selected services such as medical services in the form of a Medical centre and a Kenlink Pharmacy, dry cleaners, photography and financial services. 
Health, beauty and fitness services can all be found here as well, with a full-fledged Gym, two hair and beauty salons and cosmetics shops such as Essence. Due to its central location this complex is convenient for those stepping in to pay bills, do some grocery shopping or just meeting friends for a meal.
Westgate Shopping Centre
Westgate Shopping centre is the perfect place for shopping, it is located in a spacious location with no congestion. It is ideal for the whole family as it offers entertainment, business services, health and beauty solutions, as well as various outlets ranging from uniform suppliers, sports gear, hardware, medical, stationery and gift shops. There are two major supermarkets at Westgate which are adequate for most home and garden needs.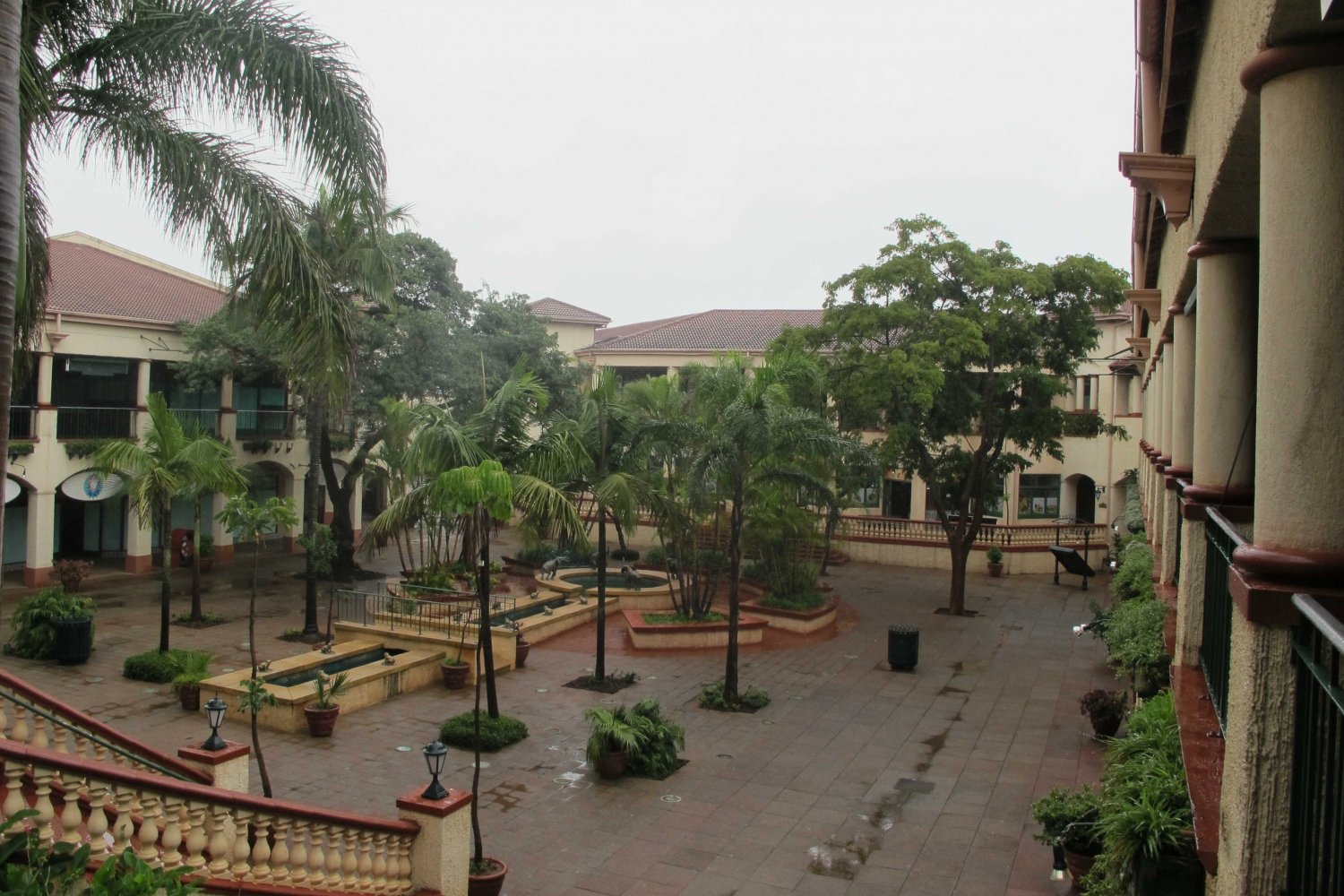 Westgate is very quiet and has a slow pace but it is lively over the weekends and during school holidays. Sadly, some significant shop space and office space are now vacant as the complex's popularity has waned over the years. It is still a convenient place to visit and combine errands as most banks can be found there, utility providers such as Telone and Zol have a home there. There are also a number of boutiques for men and women like Bedazzle, Zeon and familiar favourites such as Topics and Edgars.
Westgate does have some entertainment which can appeal to all ages. The cinema is open and was revamped to international standards making it more comfortable. Showing an assortment of movies for various age groups. There is also an Ice skating rink which promises a great time for young and old, however this activity is open for those seven and up. It is family friendly safe place (Alcohol free zone) where parents can leave their children for a session while getting some errands done. The facility also has in-house trainers and there is nurse on duty; when skaters take a break there are hot and cold refreshments on sale.
There are a few eateries at Westgate Complex but for quality and value for money, KFC is the latest addition and it is highly recommended.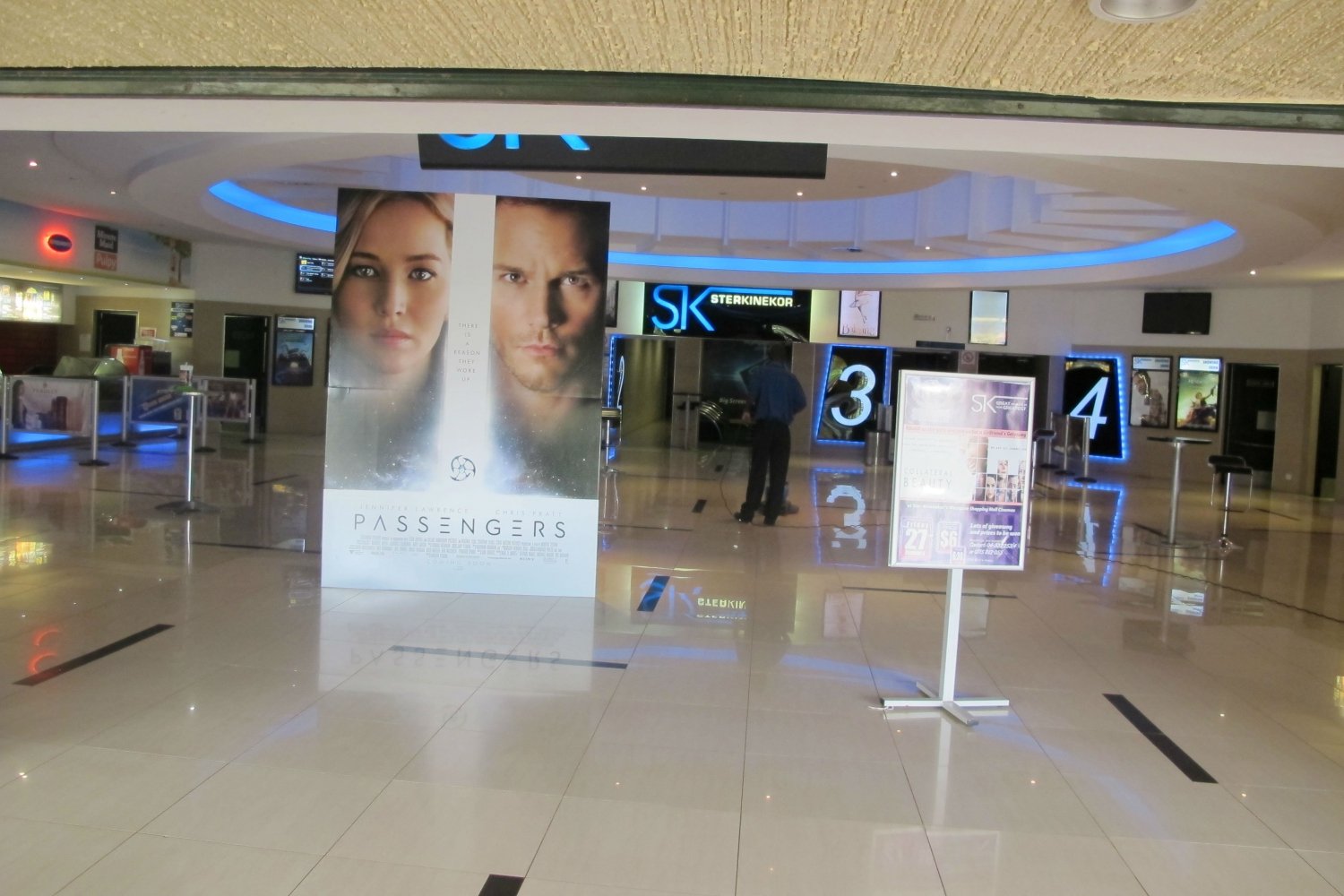 Avondale Shopping Centre
Avondale shopping centre is one of Harare's most popular business and social hubs. It is convenient because of its close proximity to the city centre. It is a busy location which is home to various shops and businesses. Avondale has grown over the years; as more new establishments have opened branches to serve the local community.
There are many restaurants and takeaways at Avondale which tend to draw quite a crowd particularly on weekends. Shoppers may enjoy the flexible operating hours with some operating into the late hours. Some notable establishments include Mugg n Bean, Ocean Basket, XO and Café Nush.  Due to the diversity of their offerings there is something for everyone, including Asian and Portuguese cuisine.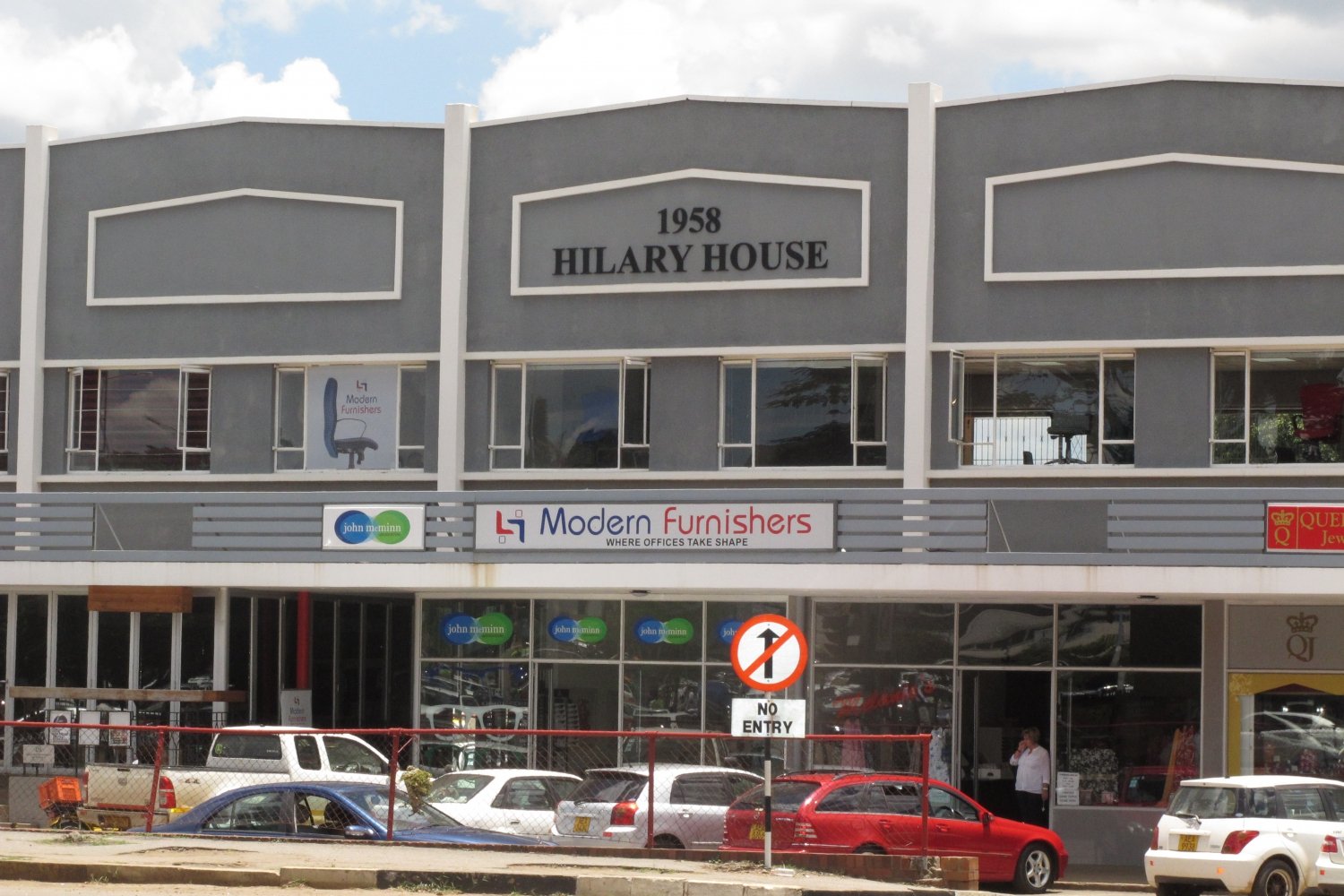 There are few entertainment options at Avondale but there is the increasingly popular Pariah night club for revellers. However, for shopping convenience there are two major retail outlets, several Pharmacies, Hardware stores, baby shops, Sports shops and a good number of banks and specialist shops. One of Avondale's key features is the Crafts Market, it is a colourful and vibrant bazaar which offers authentic African jewellery, clothing, Artworks and flowers. There are a few traders who sell new and used clothing among other things. It is a good place to browse for bargains and a place highly recommended for tourists to grab some souvenirs.
There is a relatively new extension of the shopping centre, the Riverside Walk. This mall has a highly urban contemporary feel, it comprises some upmarket boutiques and stores such as Barbours, The Meikles Store and some beauty shops. It is a quiet section where people can shop freely and also have some lunch away from the hustle and bustle of the main complex.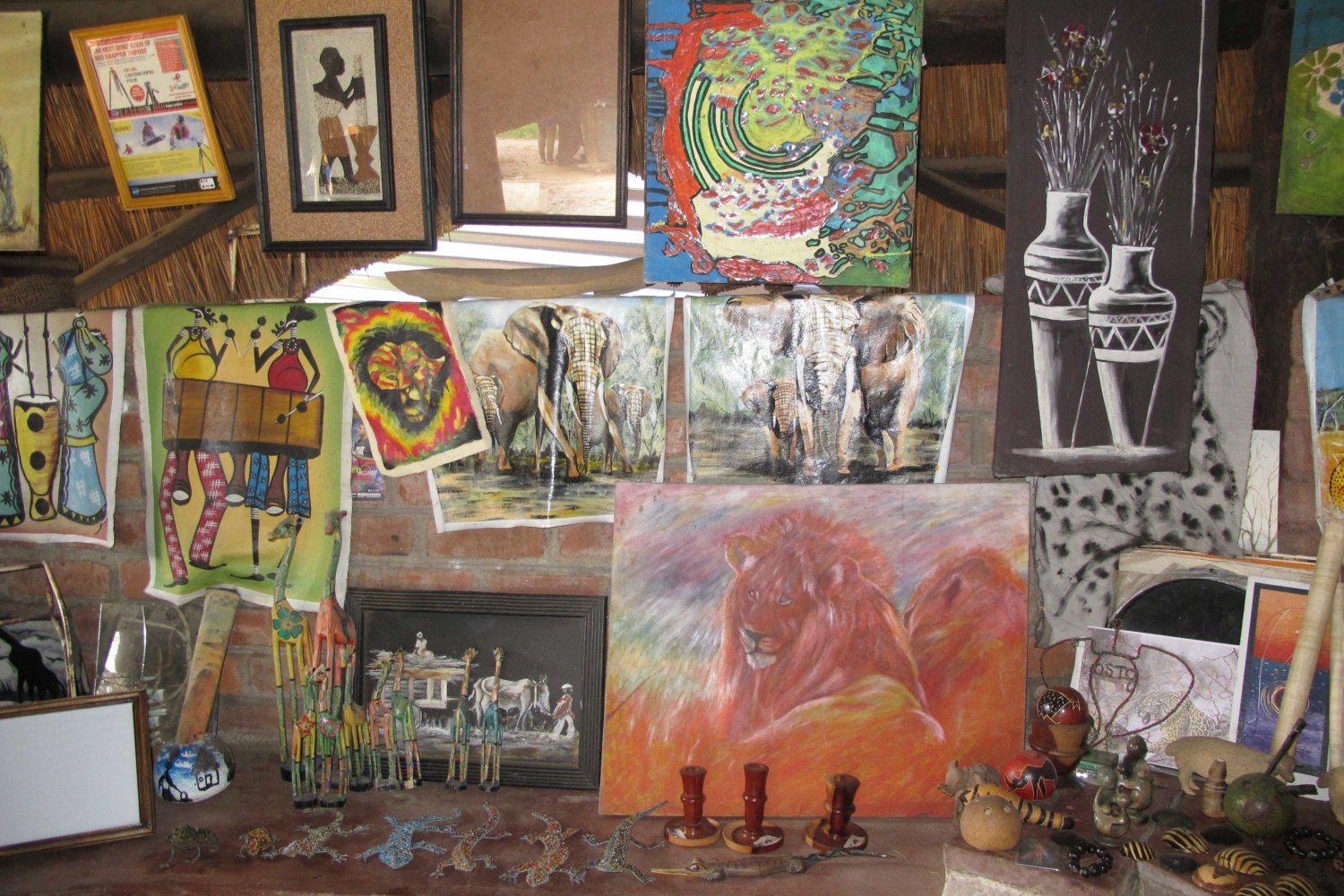 Arundel Village
Arundel Village is a small shopping complex nestled in the Northern suburb of Mt Pleasant, Harare. It is refreshingly quiet and has a close knit set up. It is a one stop shop for most basic business services and a source for many products and solutions for the home.
The village is easily accessible and provides a safe shopping environment with ample parking for the motoring public. It is perfect location for Sunday brunch after stocking up on groceries as there is less congestion than most shopping centres round the city.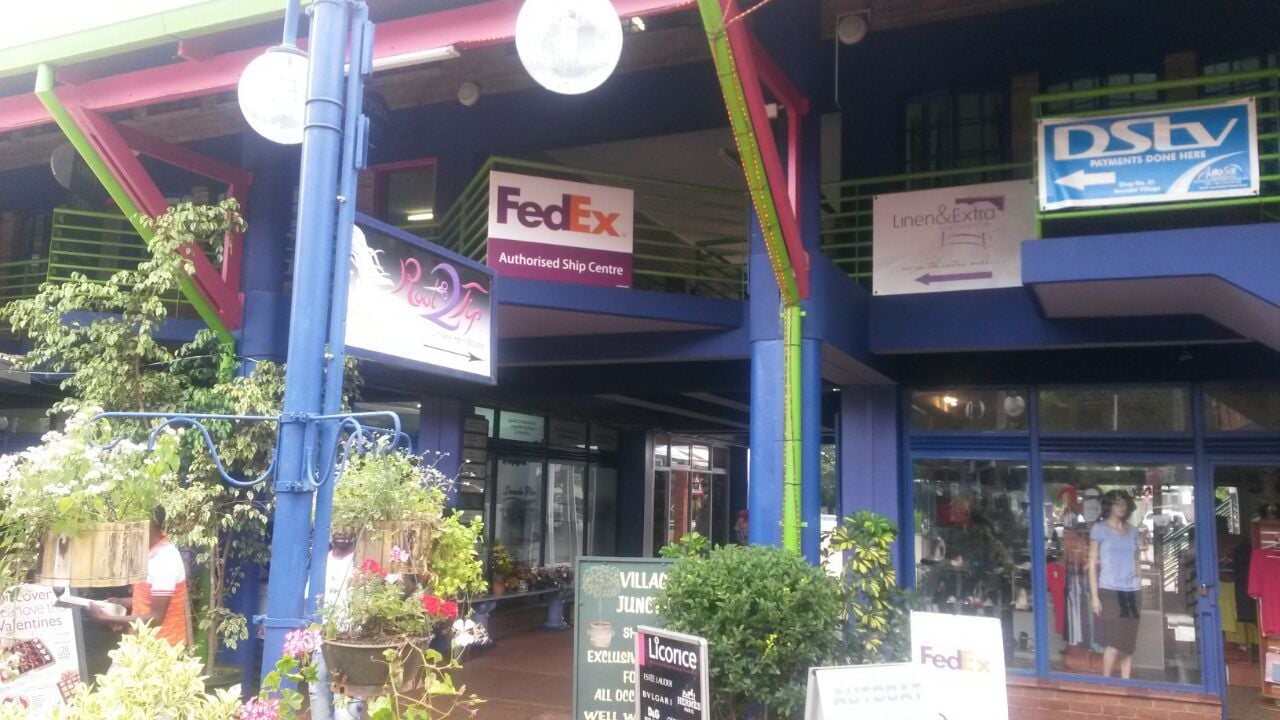 Arundel offers a few boutiques for women and men's attire, such as, Gina's Apparel, Sassy Secret and Timeless Apparel. As well as some shops for baby wear, infants and teens. Sporting attire and equipment can be found in the Mark Manolios store however there are also dedicated shops such as Hooked, for angling, and fishing equipment. The Cycleway is a well-stocked bicycle shop offering equipment and all servicing needs too. Licorice is a perfumery which is popular with locals.
Other specialist services include a music shop, Lavender Blue, a florist service. Business services available include, stationery services, travel, courier services, real estate and Satellite Television Agent, Autosat.
For dining options there are two cafes, Café Nion and Veldemeers which offers the most delightful pastries. In addition, family restraunt Alo Alo, which is open throughout the week until 10pm, offering full meals, breakfast, sweet treats and desserts.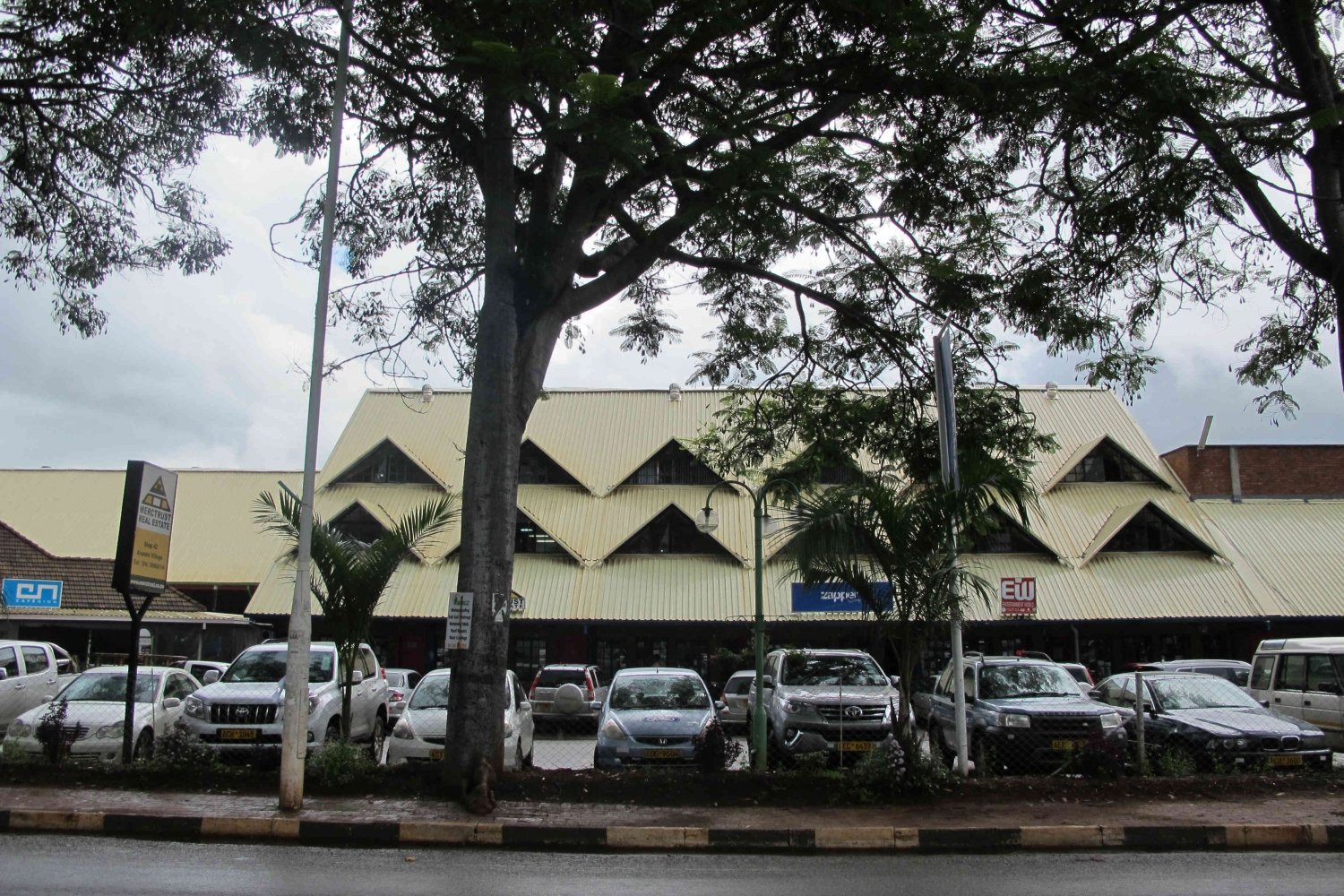 Borrowdale - Sam Levy's Village
Borrowdale Shopping Centre, or Sam Levy 's Village is the largest and most diverse shopping centre in Harare. It has grown in size and acclaim over the years and continues to evolve to keep abreast with world class standards. The Village is located in Borrowdale an affluent residential area North of the city centre.
The shopping mall draws people from all walks of life, particularly over the weekend and during the festive season. It is the perfect place to take the whole family for a meal, some shopping or some entertainment at the cinema for example. The village boasts of many shops serving a variety of needs and also houses some business offices. The complex is large and has sufficient secure parking.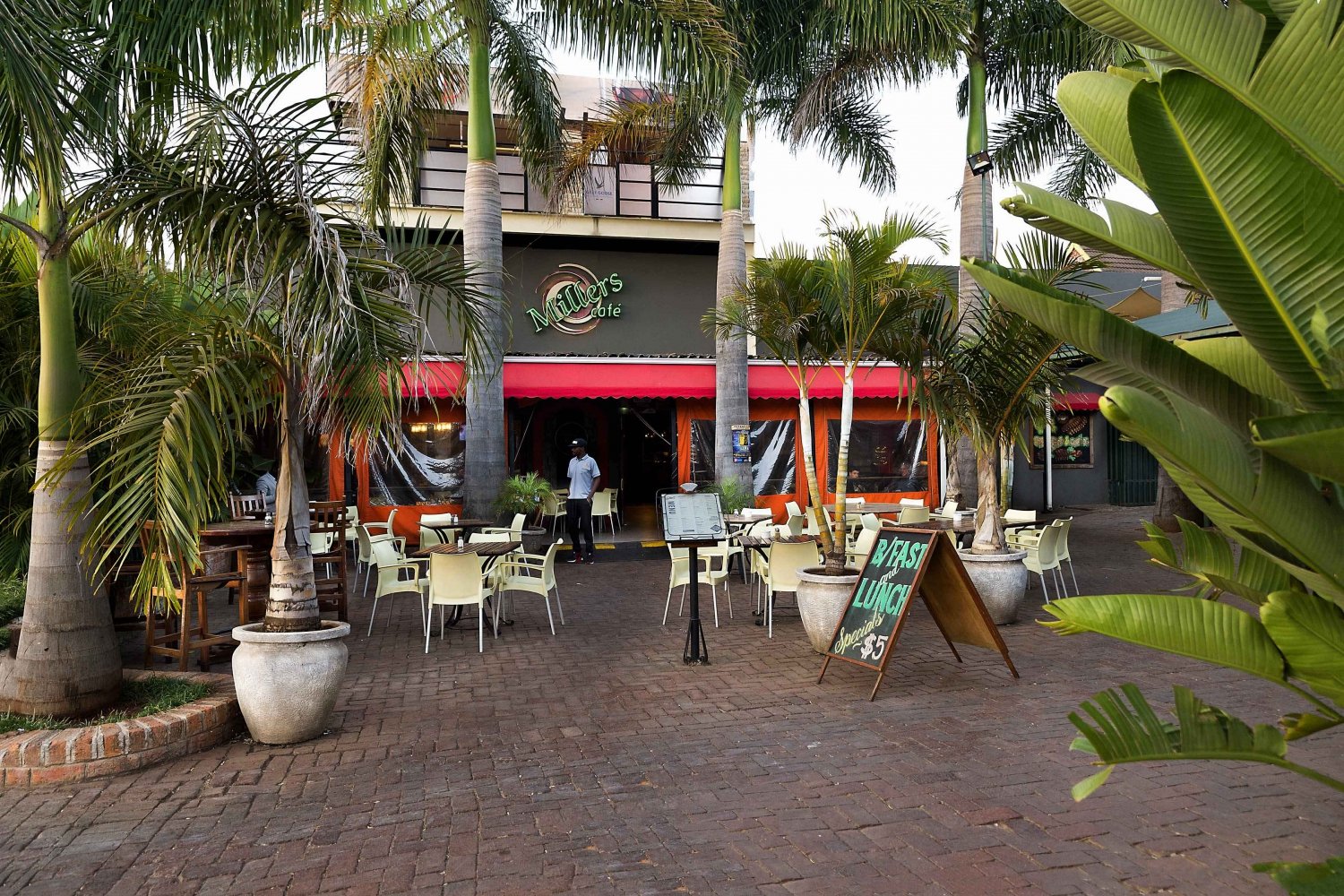 Shoppers can look forward to exclusive boutiques such as Glamourize, Shoe Shack, Obsession, Wall Street which carry renound brands and several high end suppliers for Clothing, sporting goods, toys and stationery, hair and beauty solutions, a Fruit & Vegetable Market, Home and Garden items as well as certified Electronics dealerships. There is also an automotive dealership, Zimoco as well as several Health care providers.
There is a wide array of food outlets and diners available at The Village, including, Pizzerias, Cafes and fast food parlours.  Whether one is looking for a quick lunch, fancy dinners, taking the kids for an outing or some coffee with friends there are many options for various tastes.
Lastly the entertainment scene at Borrowdale is also exciting and diverse. There is a state of the art Cinema which shows the latest movies and films. It also offers themed events from time to time; Pabloz is a vibrant night club which is popular with young people. There are also two cocktail bars.