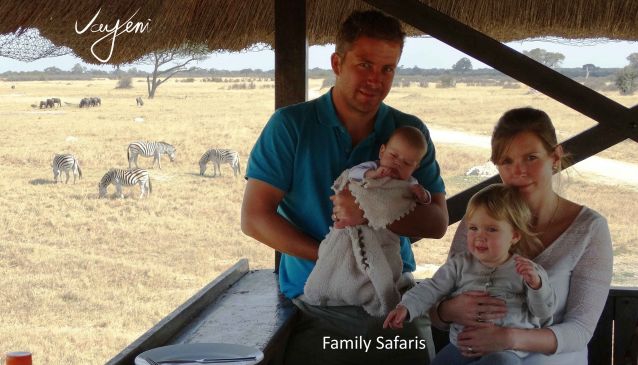 TAKING A YOUNG FAMILY ON SAFARI? YES!
Adventure
We have two daughters, Charlotte, who is 20 months old and Annabelle, who is 14 weeks old. Both of them have been to Hwange National Park, Zambezi National Park and Victoria Falls with us, and both have stayed with us in four and five star camps and lodges without hassle. Our tour operating business demands that we travel a great deal, so as to seek out new experiences and unique places for our future guests. We don't want to lose out on doing things together as a family and have to leave the kids behind, so wherever and whenever possible we take them with us on these exploratory journeys.
And so we end up literally mixing business with pleasure!
Travelling with our kids, whenever feasibly possible, to experience new places on behalf of our clients means that the children can learn to appreciate the magic of Africa from an early age. Charlotte has now been on two trips to Hwange and Victoria Falls and Annabelle did her first trip to these areas a few weeks ago. Together they have seen most of the big five and they have stayed in some incredible camps and lodges with us. Altogether these experiences have taught us about the joys of travelling through the region, as a young family on safari.
People say that running a tour operating business is very difficult to do with kids, especially one where both parents are intricately involved. When Suzanne and I started Vayeni we realized that we may be setting ourselves quite a challenge for the future. Whilst we were not parents at that time we certainly knew that we wanted to be.
Many of our guests are young families like us, so we can now relate a real family safari experience to them. We understand the needs of a young family and we also know which properties are best suited because we have tried them out for ourselves. These days more and more safari lodges and camps in Zimbabwe and the surrounding region are learning how important it is to cater for young families.
Why are upmarket family safaris becoming more popular? What has changed?
In the past a pampered safari was seen almost entirely as the privilege and domain for romantic couples and older travelers. Whilst these classes of traveler still remain hugely important to the luxury safari industry there is now a new wave of young family travelers that has come about. Existing camps and lodges that cannot cater for them simply lose out on a huge chunk of potential business. Therefore we are seeing that some of the newer or more forward thinking safari establishments are putting large amounts of effort into catering for young families too. For example you will now find that some luxury lodges and camps in big five safari areas such as Hwange have relaxed their age requirements and will allow children of all ages to stay with them. They have cleverly adapted their offerings, so as to cater for all tastes including both the traditional safari traveler and the new age young families that also enjoy having an upmarket experience together.
Specialised Family Accommodation
The premium safari products catering for families are well equipped with varied accommodation that includes specialised family tents or safari houses that are designed with families in mind. These are often set a little way apart from the rest of the accommodation and in some cases are catered for entirely separately from the rest.
The rates for young kids are next to nothing so you don't need to worry that the costs incurred will be hugely more expensive.
Dedicated kids activities and programmes
The camps and lodges also provide a range of services to cater for the young safari goers, such as nanny services, diverse toys, games, kids clubs that offer specialised early learning about the wild, dedicated guides and special menus. So you can still have some quality adult time whilst your kids have their fun too!
It is all done very cleverly and discreetly so that all safari goers staying in these camps or lodges, whether they be families, romantics or single travellers still have a brilliant experience in the same place and don't feel as if they are getting on each others' nerves because they have different ideals.
Safety
Safety is of uppermost importance at these places and staff are well trained to look after the kids, but it is still very important to remember that when you travel as a family your children remain your responsibility. These are wild areas and animals often wonder through the camps. Always be aware of the potential dangers around you. No different to being in a city really!
And listen to the trained staff and management. They know what they are talking about with regards safety.
In Conclusion…
So Suzanne and I made the decision to go ahead with having a family and working actively in our business together at the same time. It's been a brilliant experience so far and we have been lucky in that we have also received incredible help here in Zimbabwe from our amazing family, friends and staff. We still have plenty to learn in the coming years about travelling together on safari as a family, but so far we have been able to mix up our special family time with the high demands of our business and we have actually had great fun in the process!
IF YOU ARE FAMILY PEOPLE LIKE US AND DON'T WANT TO LEAVE THE KIDS BEHIND WHEN YOU GO ON SAFARI TRY DOING IT TOGETHER – WE ARE PRETTY SURE YOU'LL LOVE IT!
If you need any help booking your next family safari please visit our website Vayeni Travel.
Written by:
Jules Retzlaff
PUBLISHED: Aug 15th 2014 | UPDATED: Aug 30th 2017