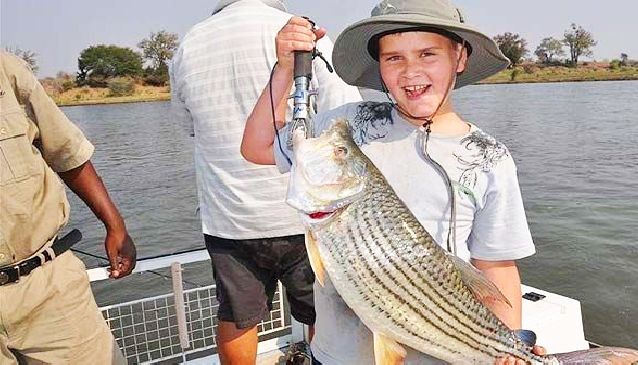 Tiger Fishing Time
Family Fun
the fish biting can only get better!
With the tiger fishing season upon us it is time plan your trips to avoid disappointment. Despite the late rains and the opening of the three flood gates at Lake Kariba, resulting in exceptionally high water levels on the Zambezi River, this year's winter fishing has been unbelievably good. Now with the weather warming up, the fish biting can only get better!!
Recommended places to stay on the Zambezi River are Tafika and Shamashanga luxury river camps. Both offer an all inclusive price that covers your accommodation, all meals and beverages, boat hire, fuel, tackle and bait.
In Kariba, the Annual Invitation Tiger Fishing Tournament takes place this year from the 6-8 October at Charara, which is situated in the National Parks and is 25kms east of Kariba town.
There are many accommodation options on offer depending on what you are looking for, like: Cutty Sark Hotel and Caribbea Bay Hotel both in Kariba town.
For five star luxury treat yourself to Changa Safari Camp which has magnificient views of the lake, or Spurwing Island Resort that is nestled in the Matusadona National Park
Another very popular choice is to hire one of the many houseboats available on the lake where you can enjoy being amongst the wildlife and tranquillity of nature.
Written by:
Jules Retzlaff
PUBLISHED: Sep 13th 2010 | UPDATED: Aug 30th 2017