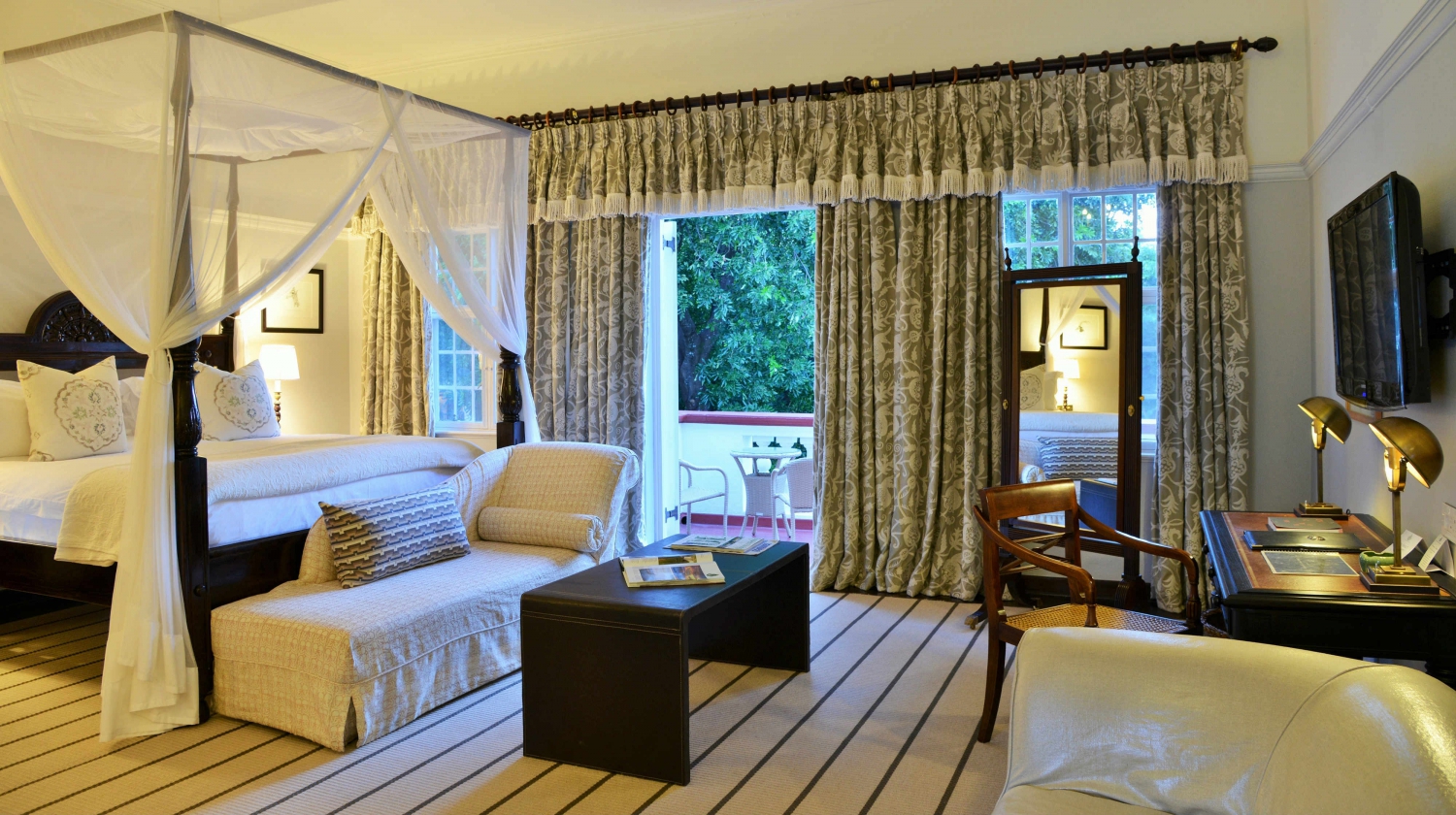 Top 10 Honeymoon/Romantic Getaway Locations
Zimbabwe
The Victoria Falls Safari Club
The Victoria Falls Safari Club is a luxurious
Safari Lodge
which is 'Äėthe place'Äô for a deluxe vacation and holiday experience. It offers impeccable service and exquisite contemporary amenities. Truly a cream of the crop among lodges in the little resort town of Victoria Falls. The safari club has 4 spacious deluxe suites and 16 club rooms. The lodge gives guests the sense of great comfort while they enjoy this wild bush setting conveniently located close to the Falls themselves. Wildlife sightings, stunning sunset views, and the top-notch service are only some of the reasons we highly recommend it!


La Rochelle Country House
La Rochelle is a country house located just outside Mutare. It is a luxurious private estate which feels like home. This location has a splendid Fantasy Honeymoon suite for the newlyweds.
La Rochelle
has the most exquisite collection of orchids and their rose gardens and lawns make it a pleasing sight to behold. It is a fully catered facility, the house has so much character and an interesting history behind it. Couples can explore the grounds, sit back with a good book in the drawing room, go to view the orchid collection or enjoy a picnic on the lawns We recommend it because it is such a relaxing atmosphere.


Chilo Gorge Safari Lodge
Chilo Safari Lodge is a little-known gem located in the south-east of Zimbabwe in the Gonarezhou National Park. Gonarezhou is a wildlife park that is known for its wide open spaces and various species of mammals but chiefly the hundreds of elephants. The Chilojo Cliffs, from whence the lodge, gets its name are massive red sandstone cliffs which are unlike any other in the country. This beautiful landscape and the abundant wildlife in the park all make for a great destination.
Chilo Lodge
embodies African inspired hospitality at its best with spacious well decked sleeping quarters, elegant entertainment areas and extras for guests' comfort. These include a swimming pool, a bar and ensuite bathrooms in the main lodge. Chilo is perfect because it is not congested like the more common resorts and ticks all the boxes where comfort is concerned.


Pine tree Inn Nyanga
Nyanga is a popular place for frequent travellers looking to have a good time in the Eastern Highlands. It does get chilly in the winter months but the views are always phenomenal whatever time of the year you visit. For a romantic retreat, we love
Pine Tree Inn
, a smallish cosy lodge with a modest vintage feel. Wake up to lovely mountain views, clean air, and some tranquillity. In the evenings you can curl up to a log fire after a hearty dinner. Guests will love the small town hospitality and friendly staff. Nyanga has plenty of activities to offer but guests are also welcome to just recline in the gardens or take a walk around the property admiring the flowers. Nearby places of interest are the Pungwe river, Nyangombe Falls, and the Inyangani mountains.
Changa Safari Camp Kariba
When unspoiled wilderness beauty meets luxury tented accommodation the result is a unique 'Äėrustic elegance'Äô which is what Changa Safari Camp is all about. Absolute comfort for the guests who want to be as close to nature as possible but still enjoy the frills and comforts from home.
Changa
truly reflects that one can still be in the bush but fully at peace and very comfortable too. These luxury tents offer many
just 'Äďfor 'Äďtwo
embellishments which will add to the wow factor of your vacation. Outdoor shower and bath, viewing deck overlooking the water where couples can enjoy the view at sundown, hammocks in the shade, candlelight dinners and a fire pit by the beach are all the extras that make Changa so special and romantic. Changa also offers several exciting things to do for guests including; Game drives, boat cruises, fishing and much more.
Dunhu Ramambo Houseboats 'Äď River Cruise
Romance to some simply means go big or go different, and this is why we fell in love with this next option. A weekend river cruise on a
houseboat
upon the Zambezi. When you have done it all, visited Kariba and Victoria Falls and tried the various activities, make your next trip memorable with this unique twist.
Spend 3 or 4 nights on a luxury houseboat offered by Dunhu Ramambo, these boats are fully decked with a pool/Jacuzzi, bar, television, sound system and air-conditioned sleeping quarters. Cabins are extremely comfortable with ensuite facilities and queen size beds. Enjoy the calming sound of water swirling around the boat, or some sun basking on the deck and obviously try your hand at fishing.
As the boat moves from one bay to another there is much to see and guests can take in the beauty of the skyline or look out for riverine wildlife and birds. A river safari will take guests to areas close to the shore for some game viewing and there are so many animals to see such as waterbuck, hippos, and elephants as they venture in for baths or feed on the islands. The boats also offer fine dining as well as cocktails at sunset. All we can say is expect to be impressed.
Victoria Falls Hotel
The Victoria Falls Hotel is a
5-star
hotel that has been in existence for over 100 years. It exudes a colonial style and its architecture reflects some of that old world glory. It is not a small hotel but we love its premium rooms as they are suitable for a discreet/low-key stay. The hotel has a gorgeous view of the Falls, the cloud of 'Äėsmoke'Äô that emanates from the Falls to be exact. It is set in lovingly manicured gardens and much love goes into all the other amenities too.
The following facilities are at guests' disposal; A pool, bar, Beauty spa, Art Exhibition areas, gift shop and lounge areas. Guests can look forward to exceptional meals and very comfortable rooms. It is conveniently placed in Victoria Falls, a walking distance from the Falls themselves and some interesting night spots such as a casino at the Kingdom and other small restaurants in town.
Jozibanini Camp Hwange 'Äď Camping under the stars
Jozibanini Camp is a safari camp located in the Hwange National park. Located in a remote section it is secluded and offers exclusivity for those who would like to enjoy the outdoors and be in complete harmony with nature. This camp is true to what camping is all about, no frills no fuss. It also offers guests a chance to camp under the stars, an opportunity to sleep out on a raised deck under a gorgeous African sky. Amenities are just rudimentary, bucket showers and flush system for the lavatories. Leisure activities at
Jozibanini
are; game drives, mountain biking, game viewing from the camp hide and nature walks. Hwange is hot and this environment a bit rugged but for the adventurous couple, this can be a unique weekend getaway.
Pamushana Lodge, Chiredzi
Malilangwe Wildlife Reserve is a private estate located on the verges of the Gonarezhou National Park, they have championed an extensive conservation effort in the Lowveld for over 20 years. This effort is blended together with a 3-star holiday retreat called
Pamushana Lodge
. A part of the Singita brand, this Lodge will definitely sweep first-time visitors off their feet. An exclusive location which overlooks a lake, the lodge is set in a grove of baobab and acacia woodland. The 150,000 acres on which the lodge sites are teeming with wildlife, flora, and remnants of a prehistoric culture which is in the form of cave paintings.
The Lodge itself has been inspired by the heritage of the local tribes as evidenced by the decorative style and theme. Everything about Pamushana celebrates African creativity and the result is colour, bold prints, elegant décor woven into a unique tapestry. The lodge offers 6 deluxe suites suitable for up to 4 guests and a 5-bed villa each with a plunge pool. There is also a Jacuzzi, outdoor spa, and a mini gym. We highly recommend Pamushana simply, for this reason, location, location, location! Absolutely breath-taking, private, perfect for a Honeymoon safari and their top-notch amenities are the icing on the cake.
Matobo Hills Lodge 'Äď Bulawayo
Located 50 Kilometres outside of Bulawayo is the Matobo Lodge. A luxury lodge built on a massive granite hilltop, this location commands access to amazing views all around. The creativity behind the architecture is very impressive and celebrates nature. With 17 stone under thatch lodges that are fully furnished it is a lovely pick if you would like to take some time to relax in the Matabeleland region. This is a perfect choice for couples too, this tranquil location is far from it all and guests can just enjoy the beauty of nature.
We love the
Matobo Hills Lodge
Activity plan because there are many cultural, historical themed excursions such as Visits to The grave of Cecil John Rhodes, Khami Ruins, Caves with Bushman paintings, among other places used by Ndebele Tribe years ago. There is also something for the outdoor enthusiasts as well, as there are great places for hiking, birding and nature walks, such as Maleme Valley and Mount Ififi. The Matopos National Park which is nearby is home to the endangered Rhino and guests will love a morning of trekking this animal which is one of the Big 5. There is never a dull moment at Matobo.
We hope you have been inspired by our pick of cosy getaways. Zimbabwe has so much more to offer and we can go on. We hope you pencil in your romantic retreat in your calendar soon. Go out there and spice things up again!
Written by:
Vanessa Gambanga
PUBLISHED: Sep 26th 2017