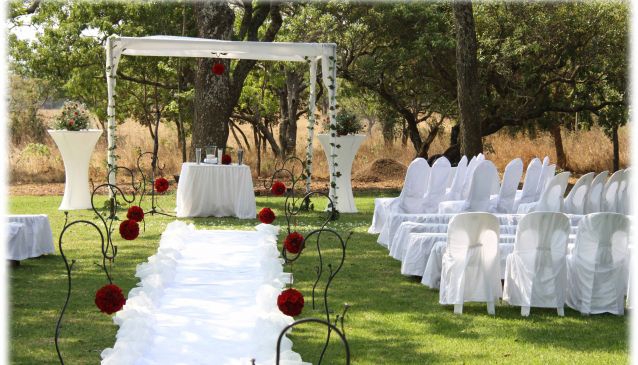 Getting Married in Zimbabwe?
Editorial
Every girl dreams of making her wedding day the most memorable and special day in her life, thinking of how she can make it different, out of this world and a day that she and all her family and friends will remember.
Zimbabwe with its perfect climate is the ideal place to get married the most popular months are April, May and September, when you have clear blue skies, warm but not too hot temperatures. There are many options to choose from such as Victoria Falls, Lake Kariba, the banks of the Zambezi River, or one of the beautiful game lodges situated a short distance out of Harare. Many venues have event coordinators who will take the stress out for your big day by arranging everything from flower arrangements, catering and accommodation.
Wild Geese Lodge is a well known choice for a wedding with a number of options from the state of the art royal Musasa room which can take up to 400 people with the use of the veranda. This venue overlooks the Mazowe hills , and has beautifully manicured lawns, where you can relax and enjoy under the Msasa trees. There are lodges where you can stay overnight and let them spoil you the next day with a special breakfast.
Another exciting option is Chengeta and Pamuzinda Safari Lodges also not far out of Harare, get married under the Fig Tree on the plains, truly romantic at sunset. Alternatively have your wedding in one of their wedding venues, choose lunch or dinner, and they can even arrange post wedding party on one or two of their luxury houseboats, Umbozha and Karibezi on Lake Kariba
For an extra special treat meet Spike the warthog who is a great attraction at Pamuzinda lodge he was hand reared there and grazes freely throughout the park during the day, detouring through the horse stables for their tasty cubes.Thereafter he ambles over to Pamuzinda about 5pm and goes to the kitchen for all the vegetable peelings which have been kept for him during the day. Then he makes his way to the Pamuzinda bar where he collects his pillow from the barman and takes it and goes and lies down in front of the fireplace until about 4am when he leaves for the day.
Written by:
Jules Retzlaff
PUBLISHED: Aug 30th 2017